Welcome to my first ever Percy and Albert Interiors blog!!
I have wanted to write a blog for quite some time now. A combination of not knowing what to write about and a lack of time means it has taken me much longer than I would have liked to get to this stage! 
So, for my first blog, I have decided to share with you all my 'go-to' furniture painting products as I get so questions asking what I use for 'X' and what do I think of 'Y'... 
Since starting Percy and Albert Interiors I have tried different products and brands with varying success. So this blog is all about my favourite products that I can't be without. I will update this blog if/when my preferences change over time, but for now, at the time of writing, here are the details of the tools and products that I can't be without... If it isn't on the list it's because I either haven't used it or don't rate it.
 I have included links (where relevant) to where you can buy the supplies from too. Please note: this blog contains some affiliate links, meaning I may earn a small commission if you decide to make a purchase using the links I have provided () - you can read more about what this actually means at the end of this blog. 
Here are the products I use when preparing (and repairing) a piece ready for it to receive paint...

It is super important to make sure furniture is free of all contaminants (and 'icky' stuff) before you start painting, so a thorough clean with a quality cleaner is essential for the perfect finish!
What I use:
Grime Cutter Powerful Furniture Cleaner and Degreaser (click here)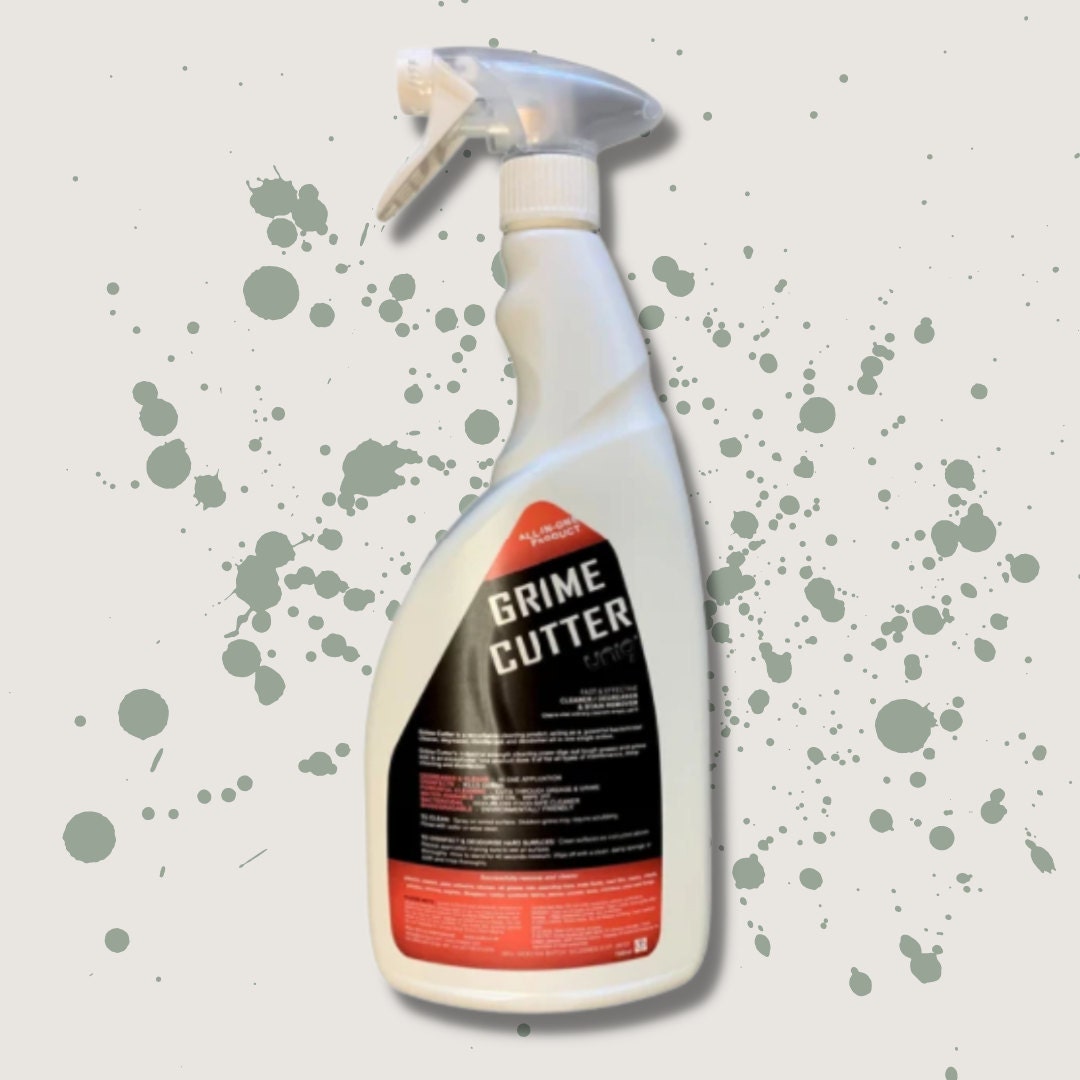 Why I use it:
This stuff comes ready to use in a spray bottle. No need for measuring and diluting. Just spray, wait for one minute and wipe off! In less than one minute it disinfects, cleans and degreases! Once a minute is up, I use a non-scratch sponge scourer to gently agitate the product and then wipe it off with a clean cloth. A spritz of water to remove any remaining residue/cleaner and dry with a clean cloth.
Where I get mine from:
Grime Cutter Powerful Furniture Cleaner and Degreaser (click here)
Alternatives:
Before Grime Cutter I used to use sugar soap - I would buy the ready-mixed stuff in a spray bottle (I'm lazy!) It does work but I found I needed to use a bit more 'elbow grease' to get a piece truly clean and ready to receive paint. Sugar soap is widely available.

Paint strippers help remove existing finishes such as varnish, wax and (obviously) paint. I always use strippers when refinishing veneered surfaces as opposed to sanders as a slight slip of the hand or a tad too much pressure and you'll sand through it!
What I use:
Home Strip Paint & Varnish Remover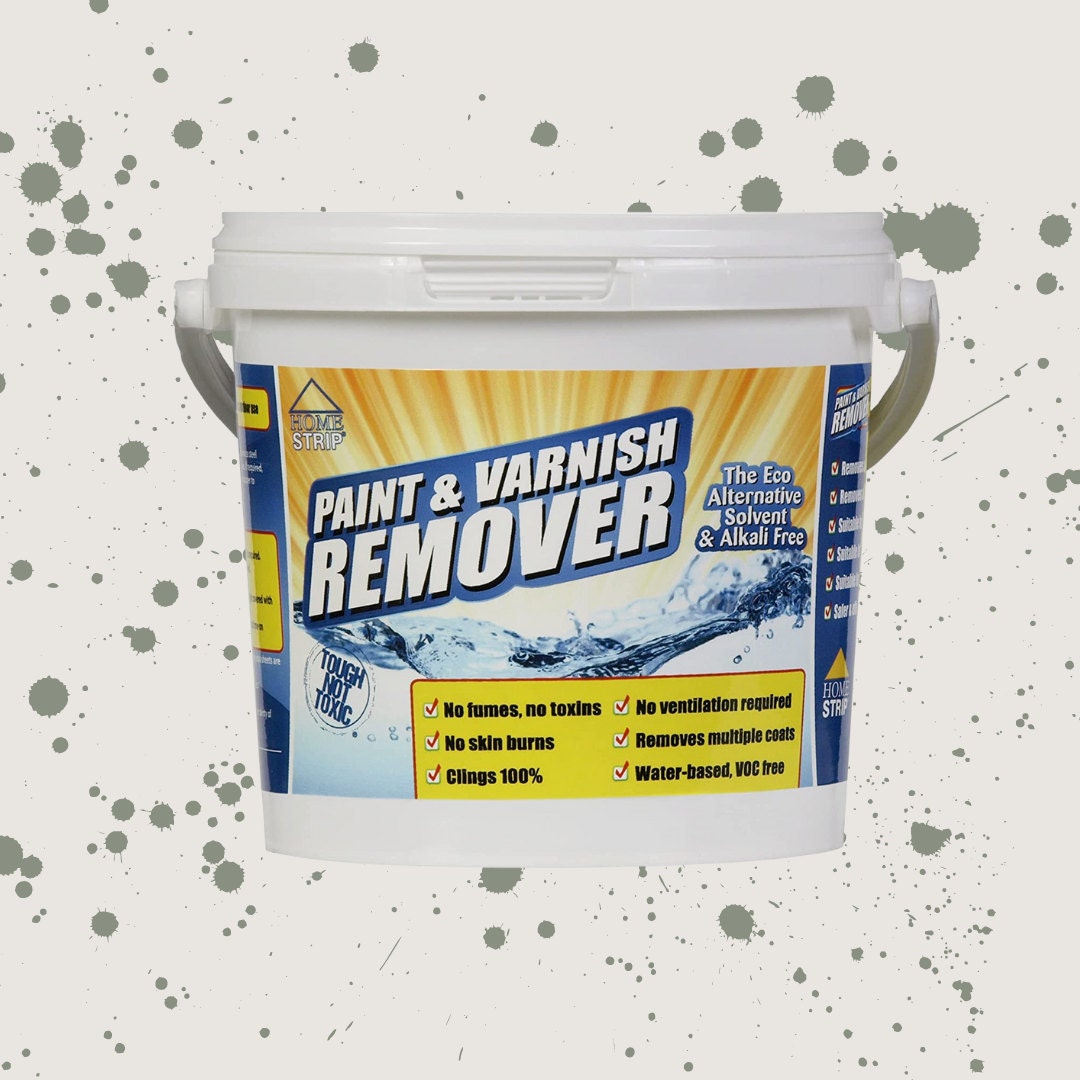 Why I use it:
I've recently started using this product and I'm really pleased with it, it boasts:
No fumes, no toxins
No skin burns (I can confirm this - forever getting it on my skin)
Clings 100%
No ventilation required
Removes multiple coats
Water-based, VOC free
Where I get it from:
Home Strip Paint & Varnish Remover is available at B&Q, Toolstation, Amazon, etc.
Alternatives:
I used to use Nitro Mors until about a year ago. It's toxic and pongy but does the job. Readily available at the usual places: Homebase, B&Q, Wickes, Screwfix, etc

There are tonnes of fillers out there and I've tried LOTS! I have always been disappointed with the finish of the regular (and cheaper) fillers. Whilst they 'fill' imperfections fine, after sanding they often look 'grainy' and it can show through the paint finish - not good!
What I use:
Ronseal High-Performance wood filler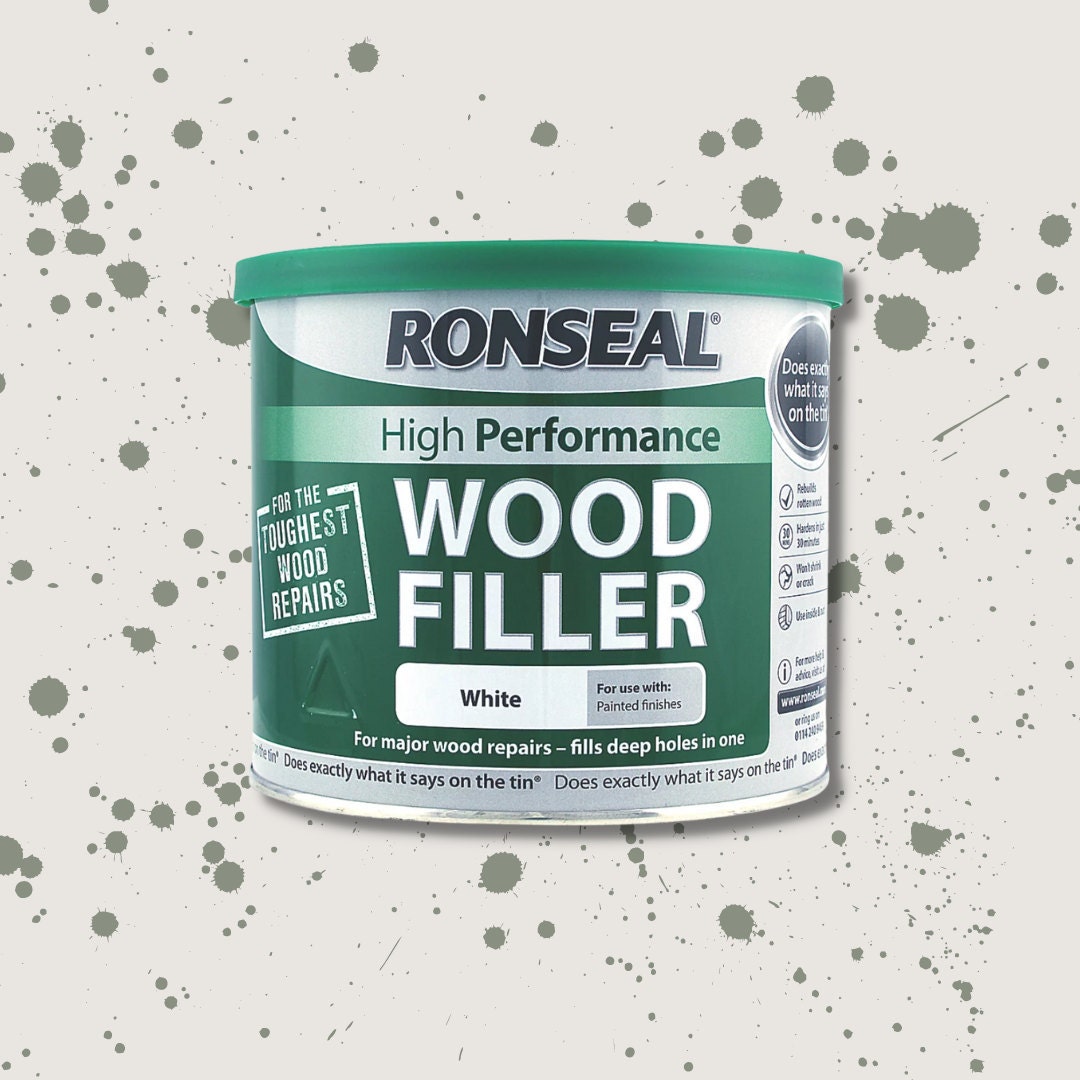 Why I use it:
This two-part filler is great. In the tin, you get a filler 'paste' and a small sachet of hardener. You simply scoop out the amount of filler that you will likely need for the job (I use disposable containers as this stuff dries rock solid), then add a tiny amount of hardener. Give it a good mix and then apply. It does have a slight odour (and dries super-fast) so that might put some of you off, but it is super strong and super smooth after sanding. I find it doesn't show through the paint, unlike the cheaper 'grainier' ones.
Where I get it from:
This stuff is widely available. I normally pick mine up from Wilkos or Homebase. Screwfix, Amazon, etc stock it too!

Primers can help with paint adhesion and prevent stains, odours and tannings from 'bleeding through' your paint finish. Woods, I would always prime include species such as Mahogany, Maple, Cherry and wood with an existing dark stain finish. 
What I use:
Zinsser Bulls Eye 1-2-3 and BIN.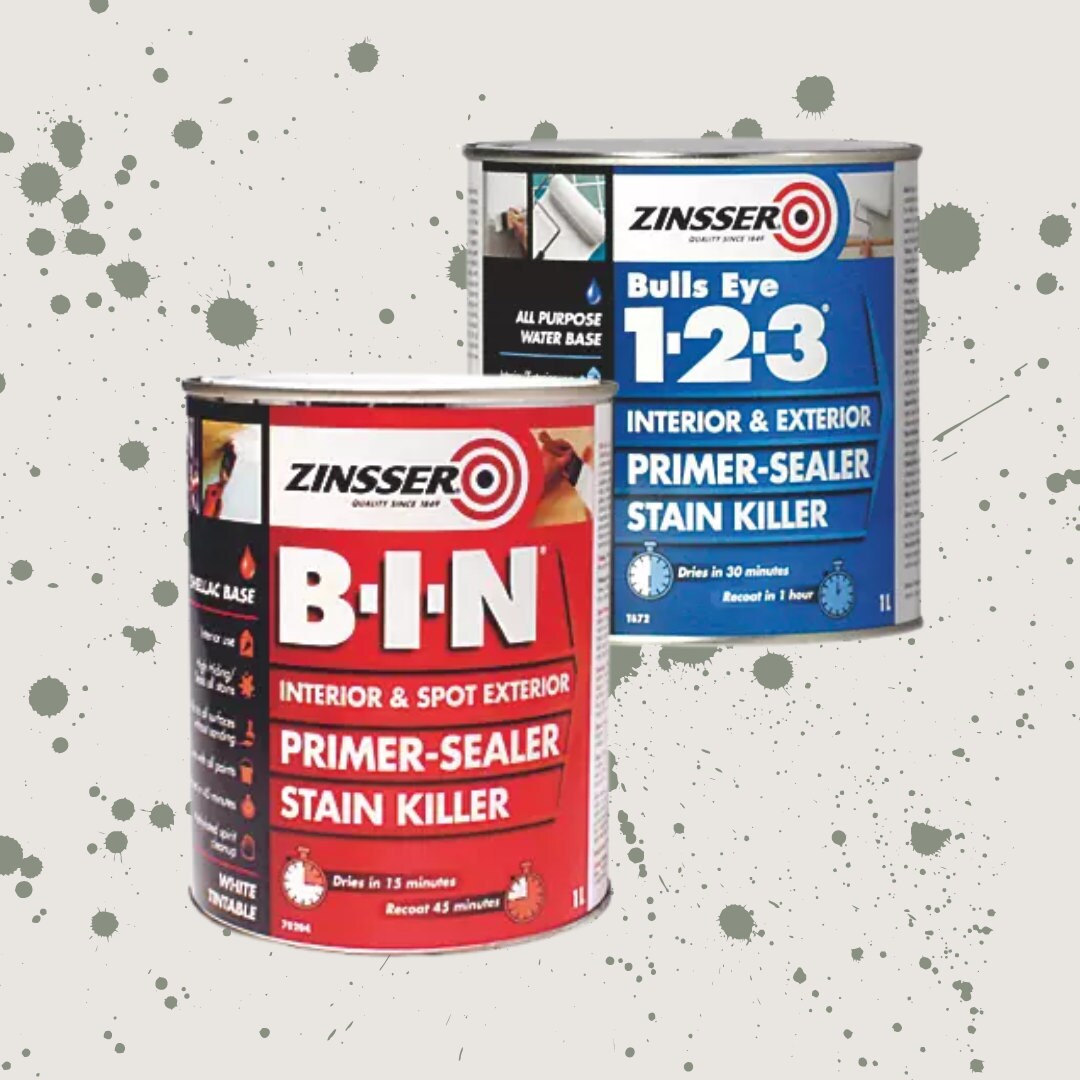 Why I use it:
Bulls Eye 1-2-3 is a water-based primer/sealer, unlike BIN which is an oil-based shellac product. Both have excellent adhesion qualities and prevent bleed-through. I only use BIN if I am painting a resinous or knotty wood like pine. 
With Bulls Eye 1-2-3  being a water-based product, clean-up is easy! It comes in white, grey or clear. I use this religiously when working with light colours and it has been very reliable! If you use BIN clean up is a bit more cumbersome due to it being an oil-based product.
Where I get it from:
Both products are readily available on the high street and online.

I've played about with a lot of paint brands. There are so many types out there. My preference is 'all-in-one' mineral paints as I like the smooth flat finish that can be achieved with relative ease.
What I use:
Fusion Mineral Paint (click here)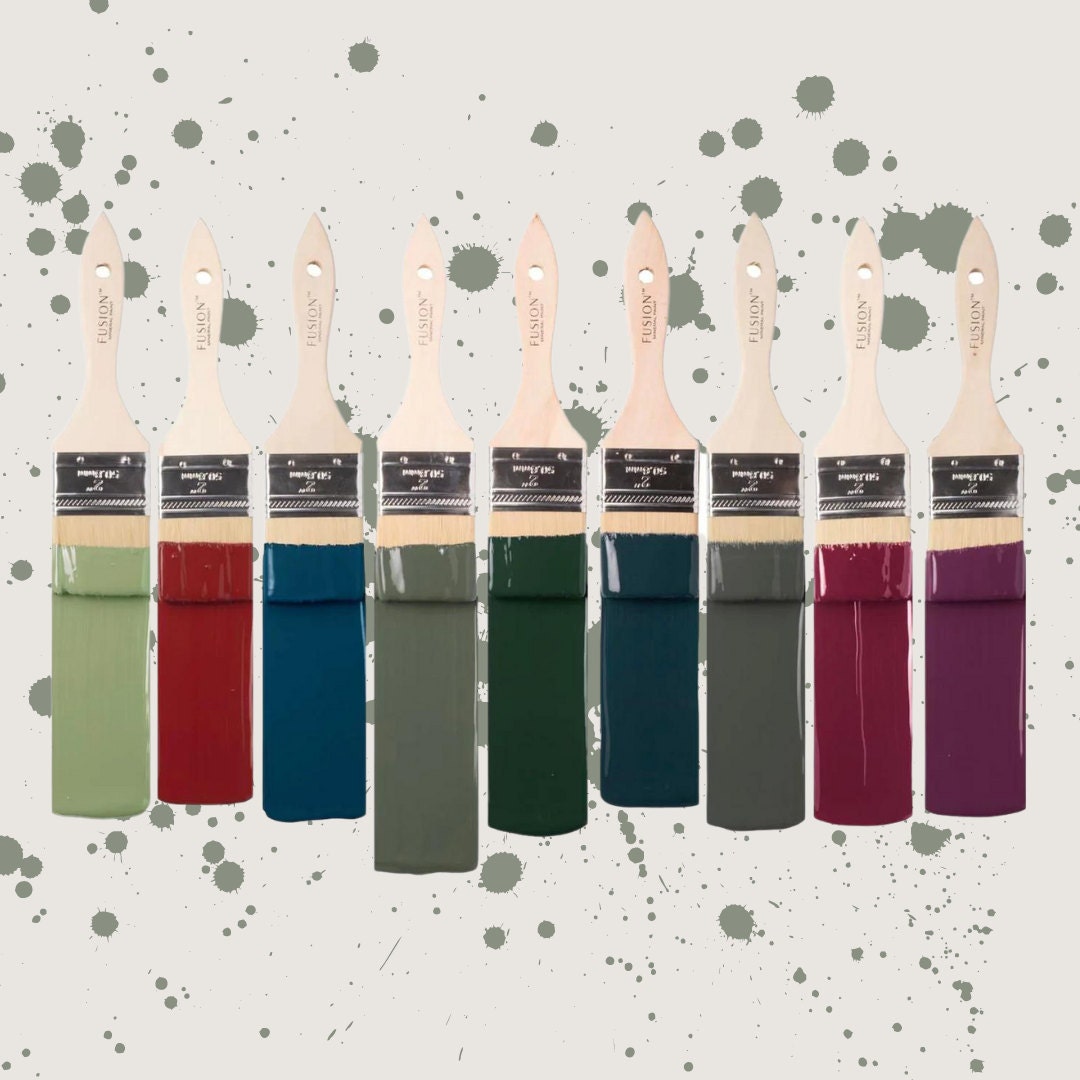 Why I use it:
I was drawn to Fusion because of the vast array of colours available. With previous brands I often had to custom mix colours and whilst that was fun - it's kind of costly (and messy!). Having to buy 2-3 different colours to mix the shade I wanted was starting to cost me a small fortune. I invested in a 'true colour' Fan Deck Colour chart (click here) so that I have every Fusion shade to hand. I hold the swatches against wallpapers and the piece to see what works best. The coverage of Fusion is really good - typically no more than two coats, it's self-levelling, priming and has a built-in top coat.
Where I get mine from:
Fusion Mineral Paint (click here)

Sometimes a piece of furniture needs a bit of 'bling' huh? 
What I use:
Posh Chalk Powdered Metallic Pigments (click here)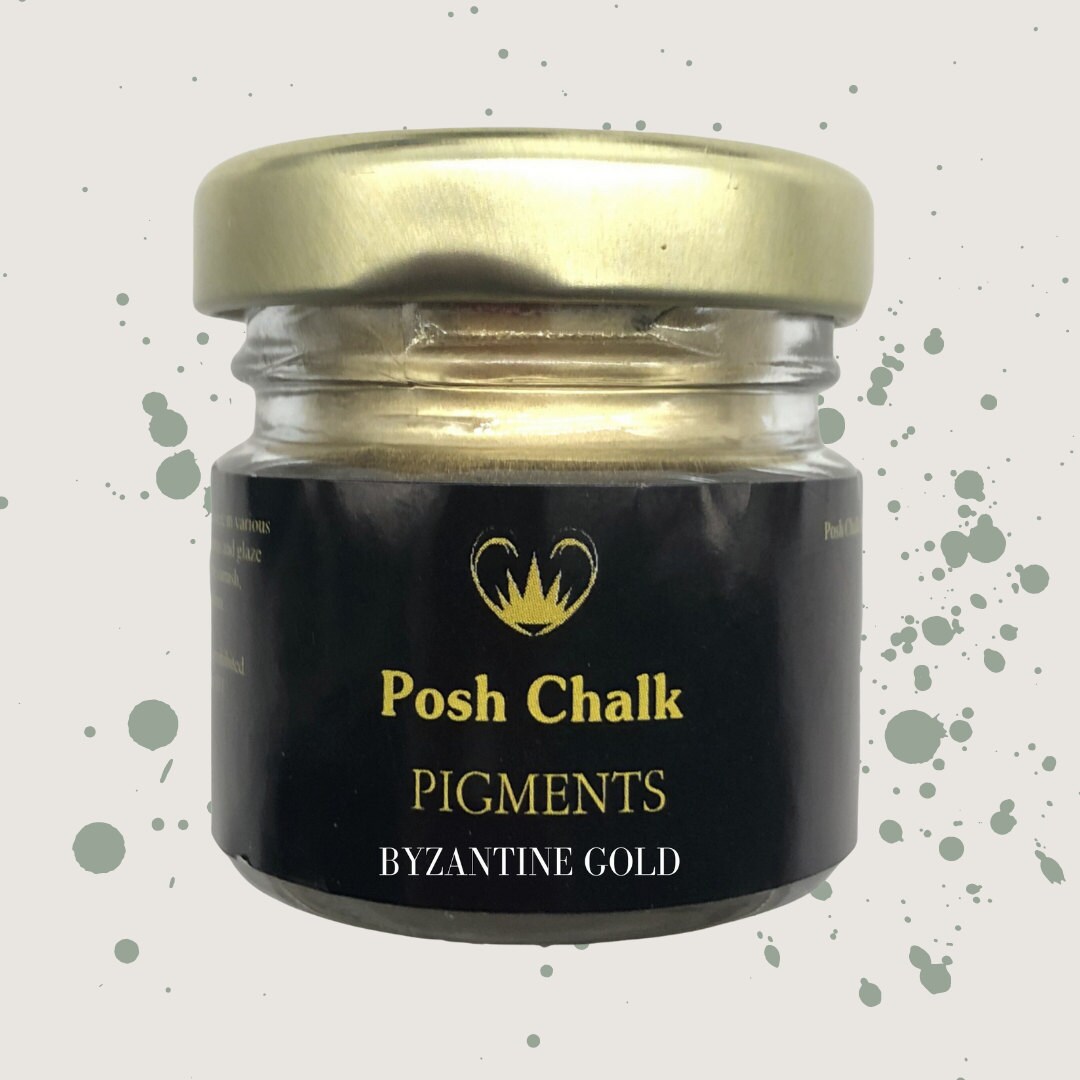 Why I use them:
I was late to the party with these. I started to see lots of people using (and rating) them so wanted to see what all the fuss was about. The pigments are powder which becomes paint when mixed into a topcoat. The pots are small but this product is super pigmented so a little goes a very long way. I use the end of a paint tin opener to scoop out a small amount of the metallics into a tub and then mix it with a varnish to create paint. If you use a matte varnish you will get a dull metallic, mix it with something glossier you will get added shine. I normally mix mine with a satin topcoat or Dixie Belle Gator Hide. My favourite gold is Byzantine gold seen below on a key surround for a recent cabinet...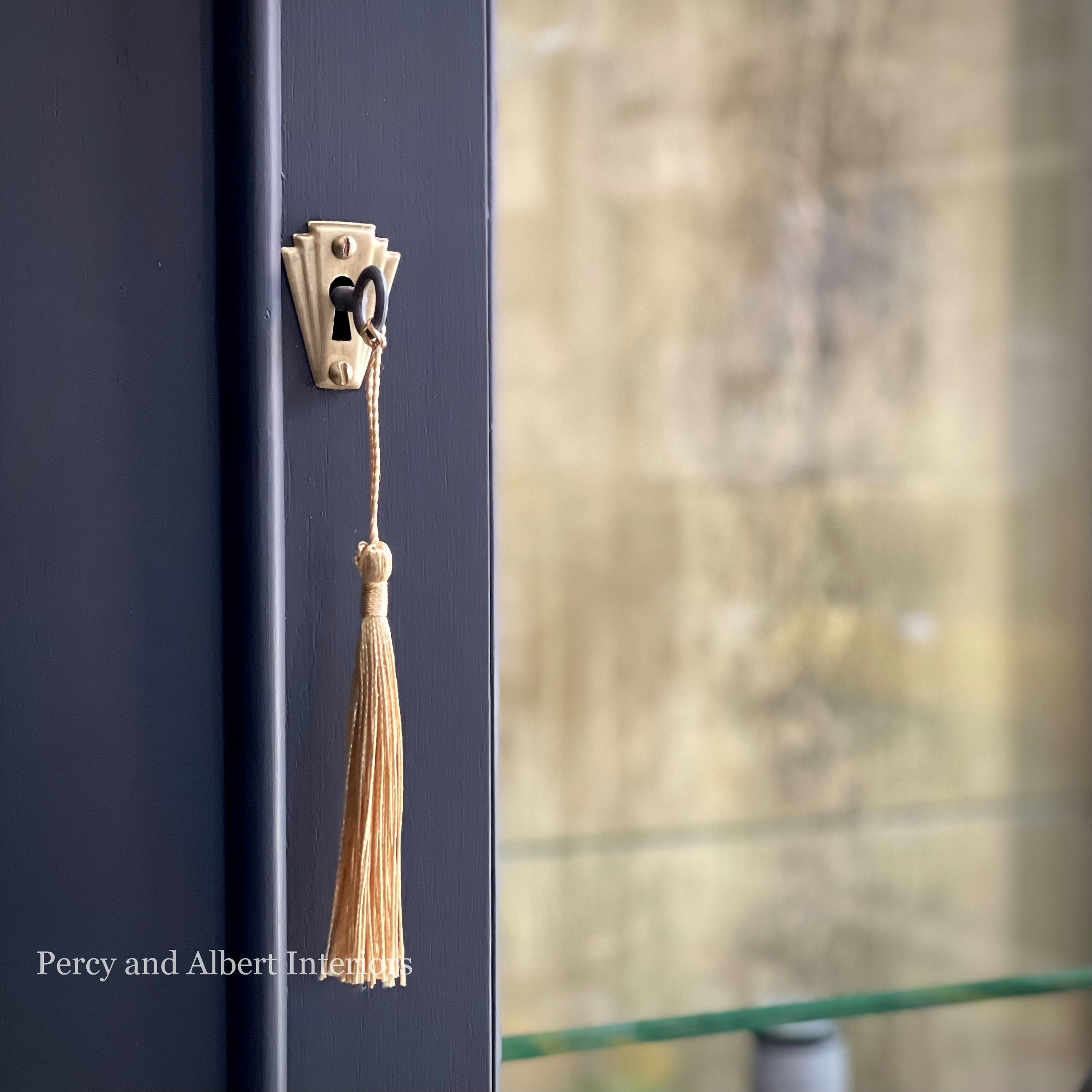 Where I get mine from:
Posh Chalk Powdered Metallic Pigments (click here)

I rarely paint large flat surfaces with a paintbrush. I much prefer to use mini rollers. A lot of people like high-density foam rollers - personally, I cannot get on with them. For me, they leave a slight 'orange peel' finish. I much prefer short nap microfibre ones as I find they give me a much smoother finish.
What I use:
Staalmeester Microfibre rollers (click here)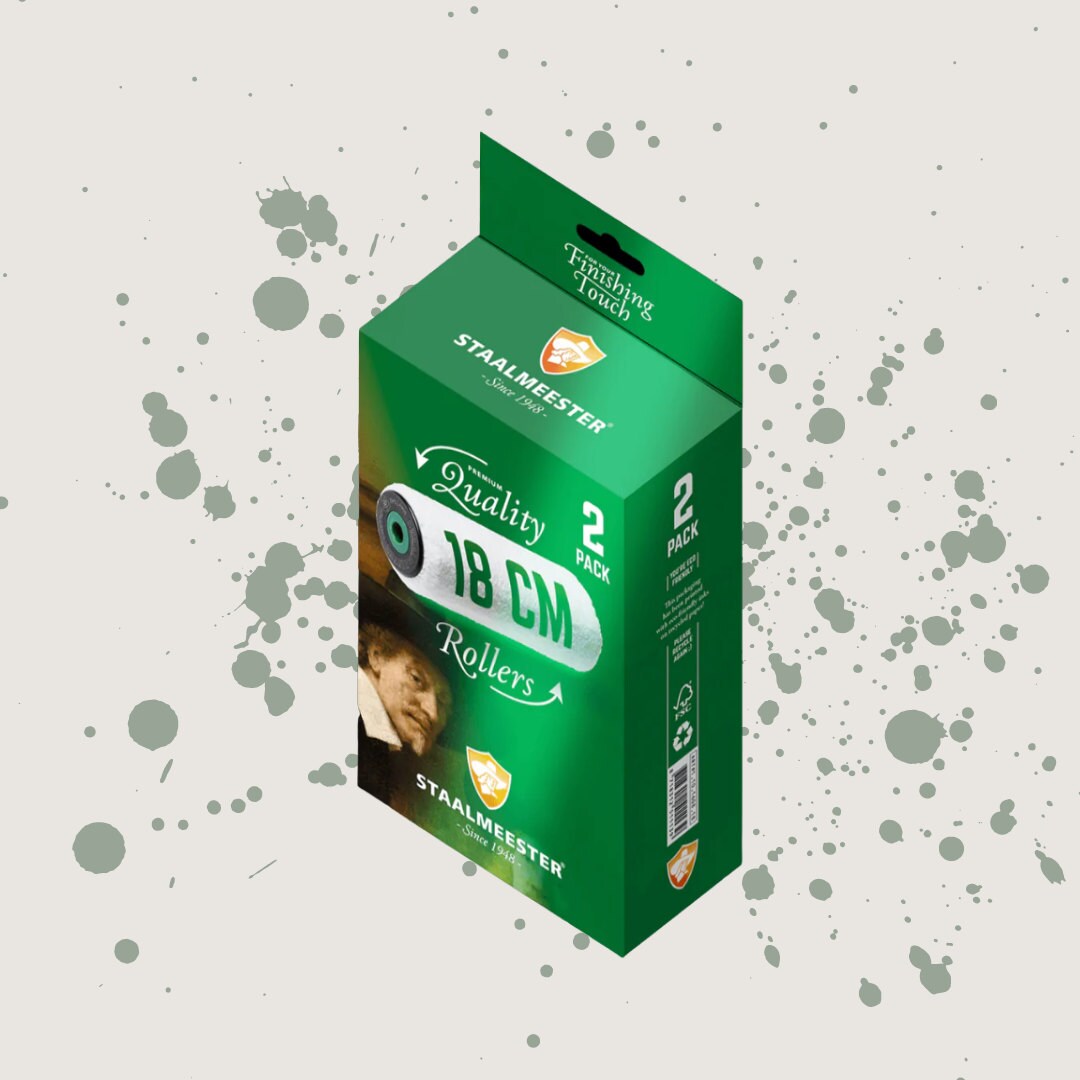 Why I use them:
I have been using these for ages now. Before then, I was using Two Fussy Blokes. For me, these rollers give a better and smoother finish! 
Tip: OK so these rollers are an investment but they wash up well! After use, I give them a quick rinse under the tap and then put them in the washing machine. I place them in a zip-up laundry bag (on their own - no clothes or softener - just detergent!) and select a 30-degree delicate cycle. Once finished I leave them in the airing cupboard for a few days to dry out.
Where I get mine from:
Staalmeester Microfibre rollers (click here)

There are so many paintbrushes around. The type of paint that you are using and the finish you are wanting to achieve will all affect the type of brush you want to use. 
What I use:
As I don't paint many large surfaces, most of my favourite brushes are small/petite ones. My favourite brushes for a flawless finish are...
Cling On (click here) 
Dixie Belle
Boldmere Wash brushes (3 pack - click here)
Boldmere Textured brushes (9 pack - click here)
Boldmere Round and Flat brushes (10 pack - click here)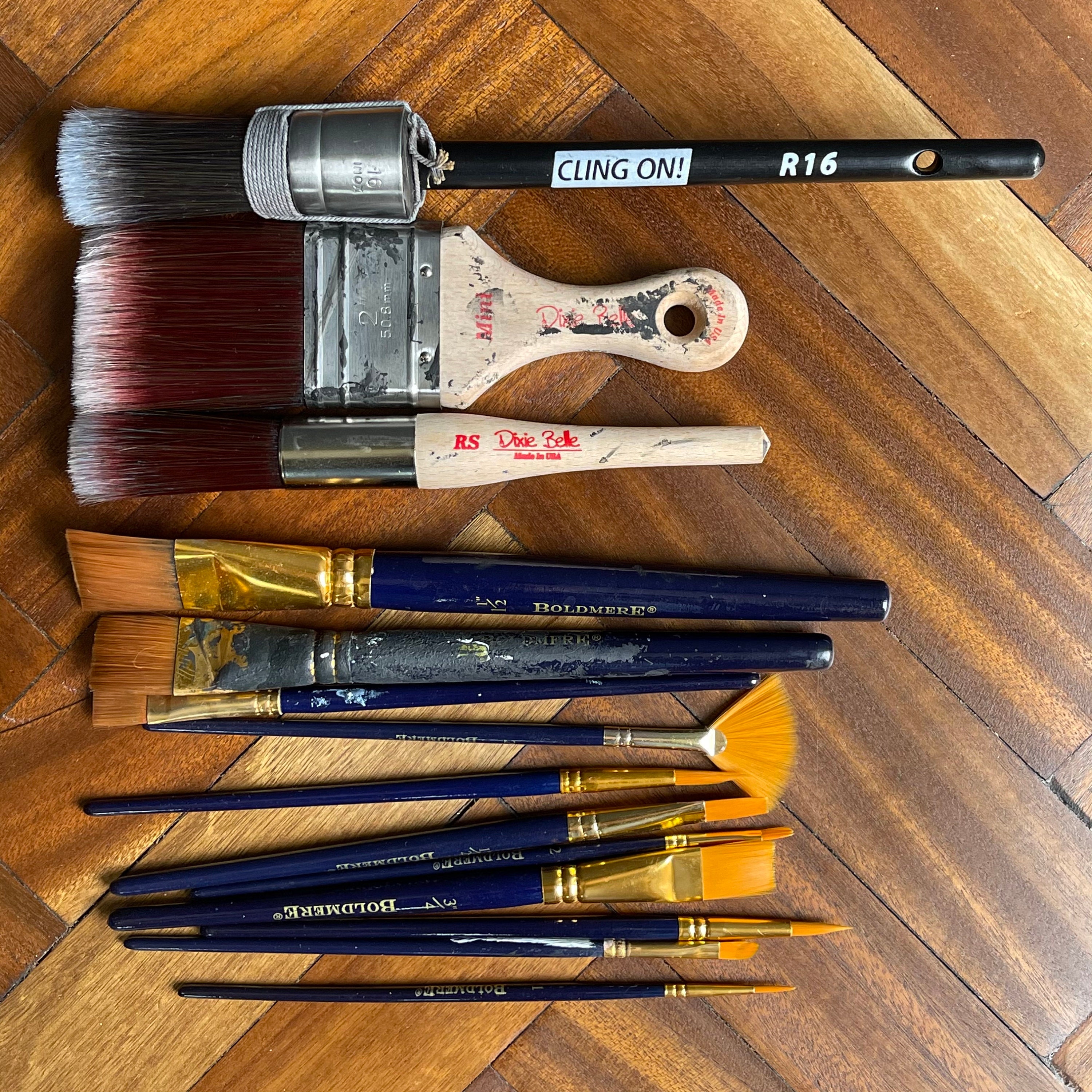 Why I use them:
I treated myself to Cling-On brushes last year. I went for the R16 and O35. These were an investment and I look after these brushes. Check out YouTube to learn more about them! They give such a great finish and come in lots of different shapes for different applications. 
Dixie Belle Mini Flat and Round Small - these were gifted to me by Dixie Belle last year and they are fab! They are nice to hold and work with. The bristles have a nice flex and again, they give a great smooth finish.
The Boldmere wash brushes are of great quality for the price (only £2) and come in a pack of three. I use these on EVERY project for those more fiddly and intricate areas/details. They wash up great too.
Finally, the textured (pack of 9), round and flat brushes (pack of 10) are super good value (£3 each... that's 19 brushes for just £6 🙌🏼) and are great for fiddly, intricate and detailed work. 
Where I get mine from:
Cling-On brushes (click here)
Dixie Belle brushes - available from Dixie Belle stockists
Wash brushes (click here)
Textured brushes (click here)
Round and Flat brushes (click here)

To get a smooth finish, I do a 'light sand' between each coat of paint. When the paint has dried run your hand/finger over the surface and you will likely feel some minor imperfections. Sand (with a light touch!) using a high grit paper will knock back and smooth out any imperfections. Just 'tickle' the surface. 
Still unsure what I mean by 'light sand'? Think of it this way... If you were to remove a painted finish by hand using sandpaper, you would be giving it some proper 'welly' (100% effort/pressure). Light touch would be using the same technique but about 5-10% effort and pressure 👍🏼 Just keep dusting down and running your hand/finger over until you are happy the surface is perfectly smooth. 
What I use:
General Finishes Ultra Flex sanding sponges (Ultra fine, Superfine and Fine - (click here)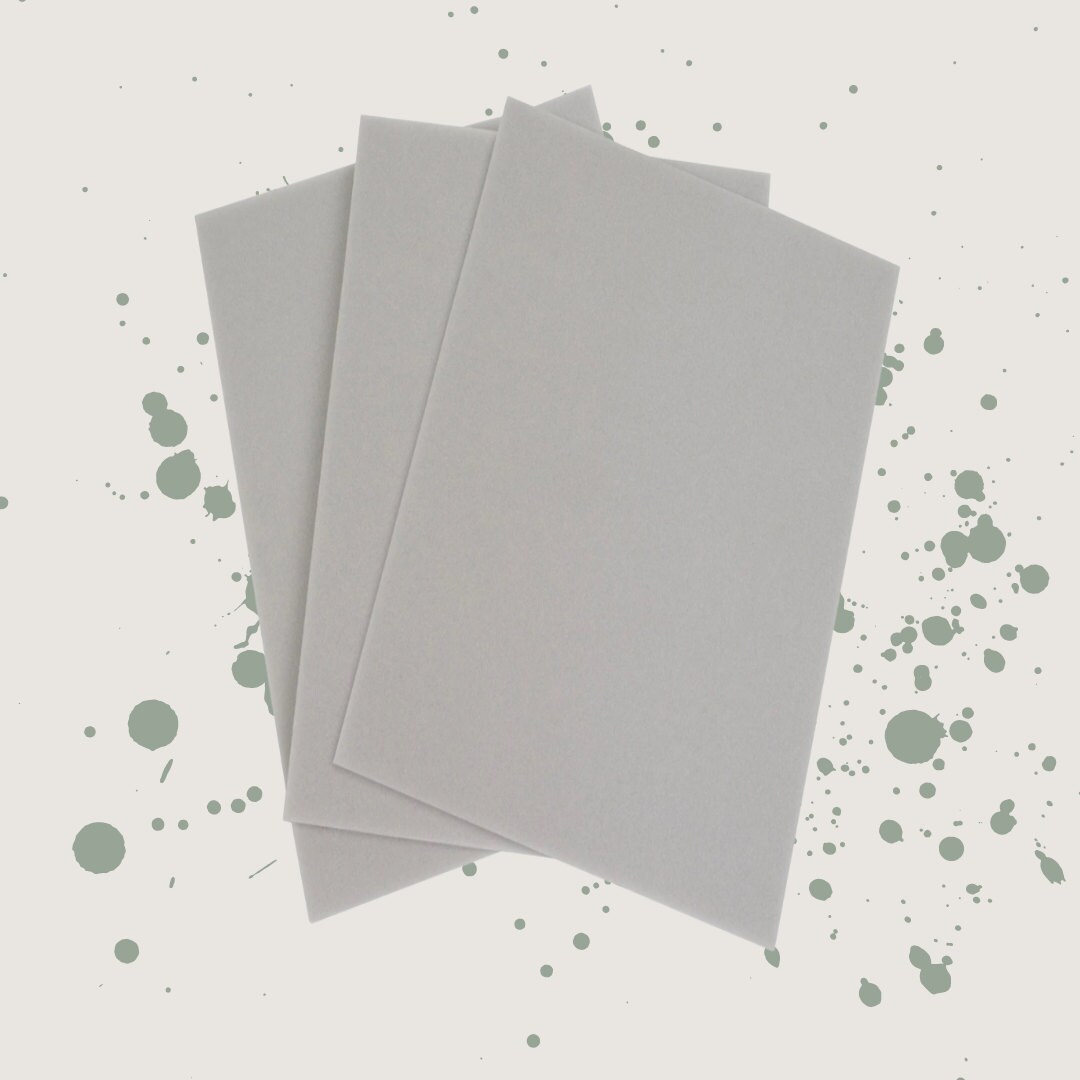 Why I use them:
I used to use regular high grit sandpaper (240) but found the folded edges would snag and/or scratch my paint. Regular sandpaper is also difficult for sanding rounded/curved edges and corners. These foam sanding pads are super flexible (unlike regular sandpaper) and cope with curves, nooks, and crannies with ease. Plus, you can rinse them out after use for added longevity.
Where I get mine from:
General Finishes Ultra Flex sanding sponges (click here)

What I use:
General Finishes (Water-Based) High Performance (click here)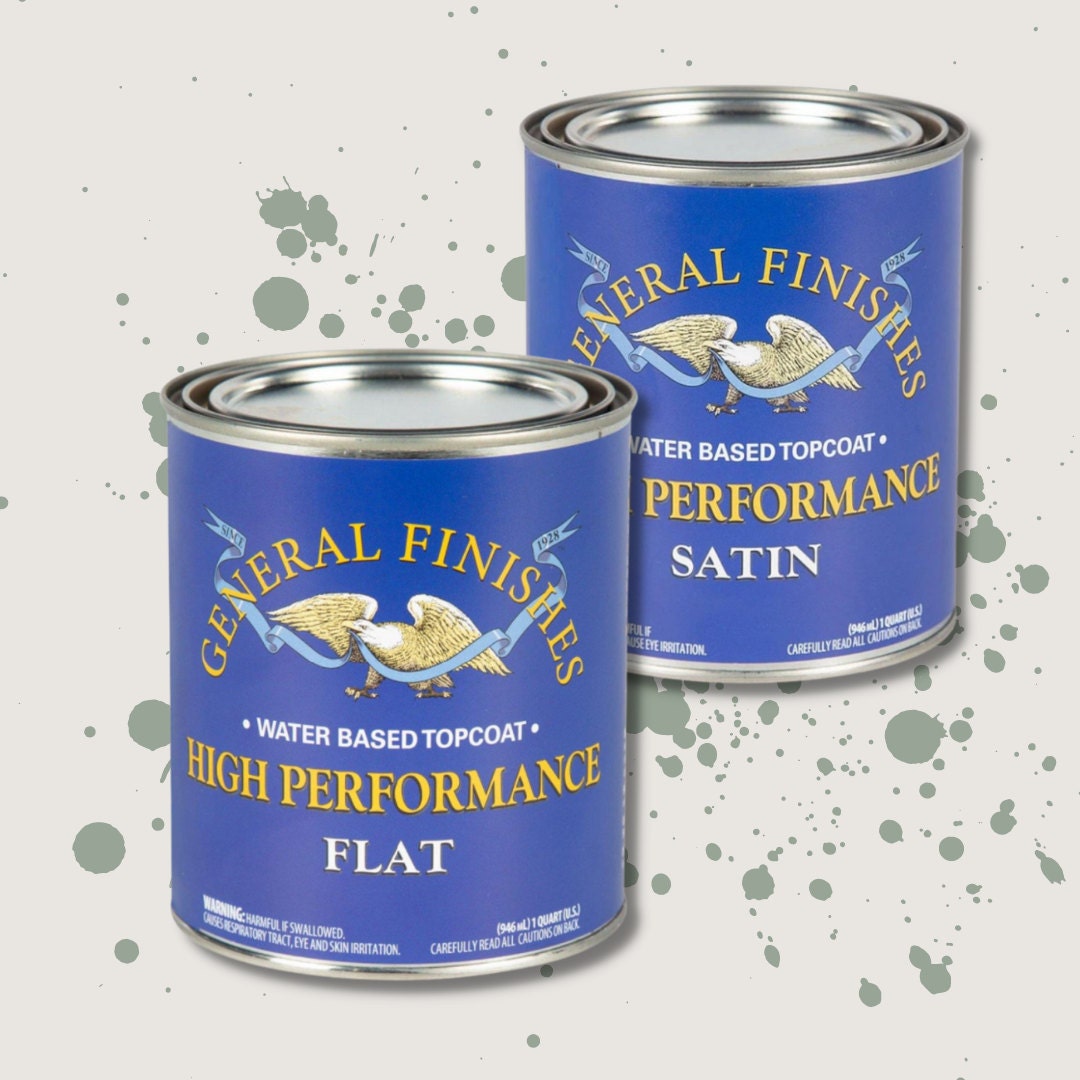 Why I use it:
It's really strong. For painted surfaces, I use the 'Flat' finish (just note that although it's called flat it still has a slight sheen). For wood, I prefer to use satin.
It's relatively simple to apply - you can use a brush, roller or as I do a General Finishes JEN Poly brush/applicator (click here). The following video shows why I use this stuff... 💪🏼
Where I get mine from:
General Finishes (Water-Based) High Performance (click here)

What I use:
Polyvine Decorators varnish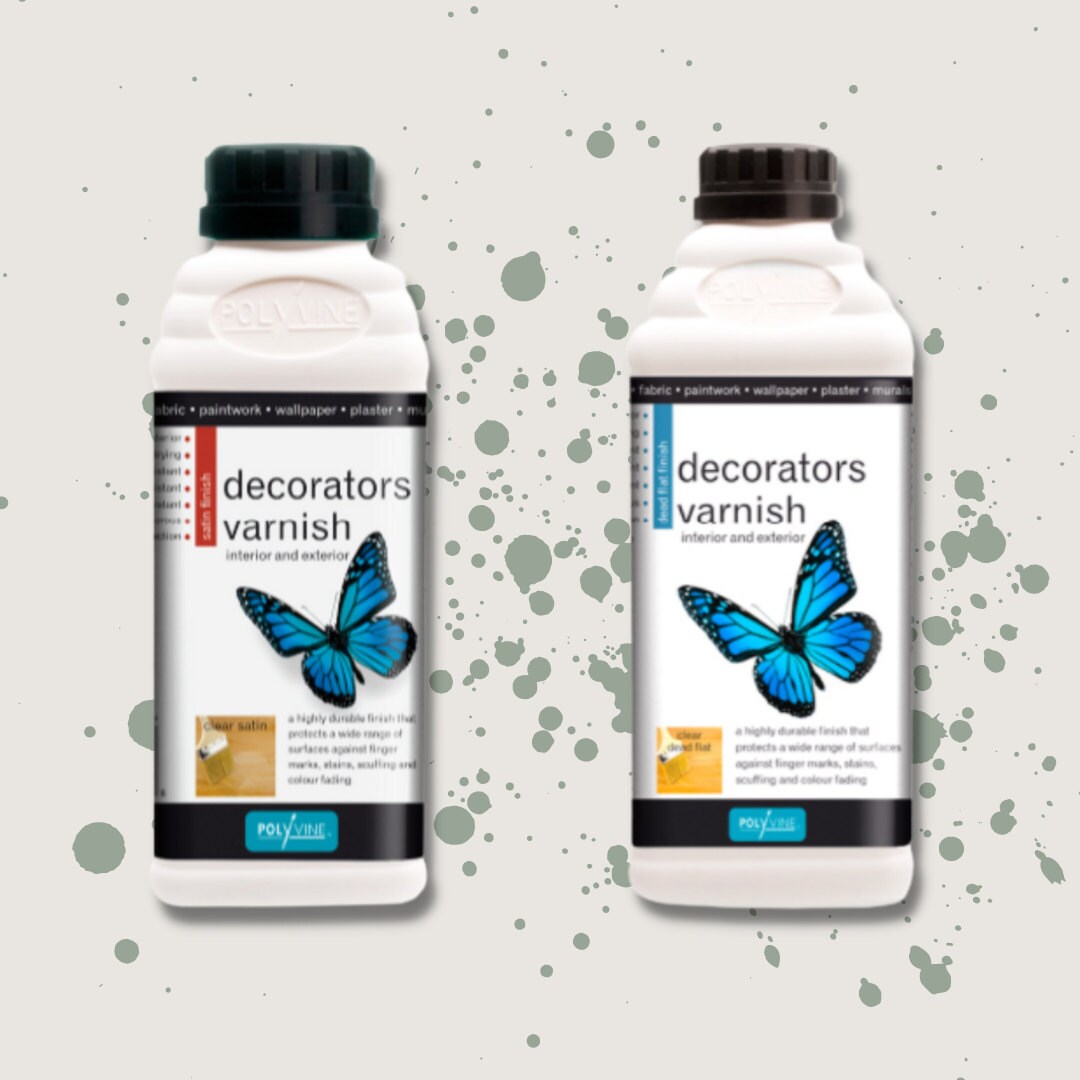 Why I use it:
Wallpaper is susceptible to staining and abrasions on furniture. For added protection, I always apply a few coats of Polyvine Decorators varnish dead flat. I prefer the paper to look as if it's untreated personally, hence why I don't opt for the shinier 'satin' and 'gloss' versions (although they are more hard-wearing). I apply it using either a General Finishes JEN Poly brush (click here) or a sponge. A few light, even coats, and your wallpaper will be water, abrasion and stain resistant.
Tip: If the wallpaper needs to be extra durable add a couple of satin coats before using dead flat. 
Where I get mine from:
Polyvine is widely available online.

What I use:
Fusion Mineral Paint Hemp Oil (click here)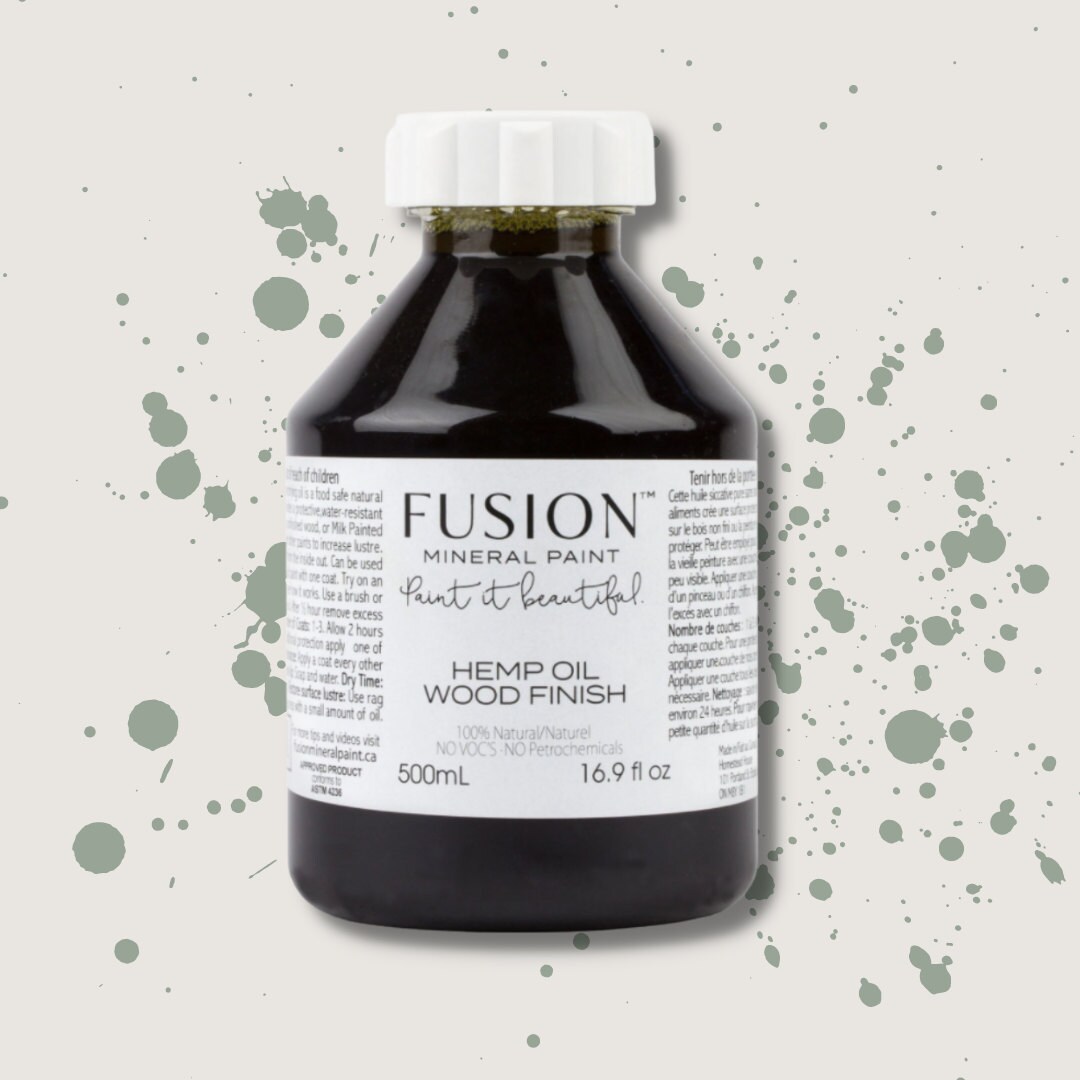 Why I use it:
Hemp oil is a natural oil and good for those with sensitivities. I have used it on both bare wood (including chopping boards in my kitchen!) and previously finished wood surfaces to give them a freshen-up. 
It gives the wood a rich lustre. Super easy to apply too - here's a short clip of me applying (a tad too much!) to some sanded oak nesting tables 👇🏼
Here's another Hemp oil transformation. After using a varnish remover to remove the previous varnish, cleaning and hand sanding, on goes the oil - look how the grain of this walnut pops!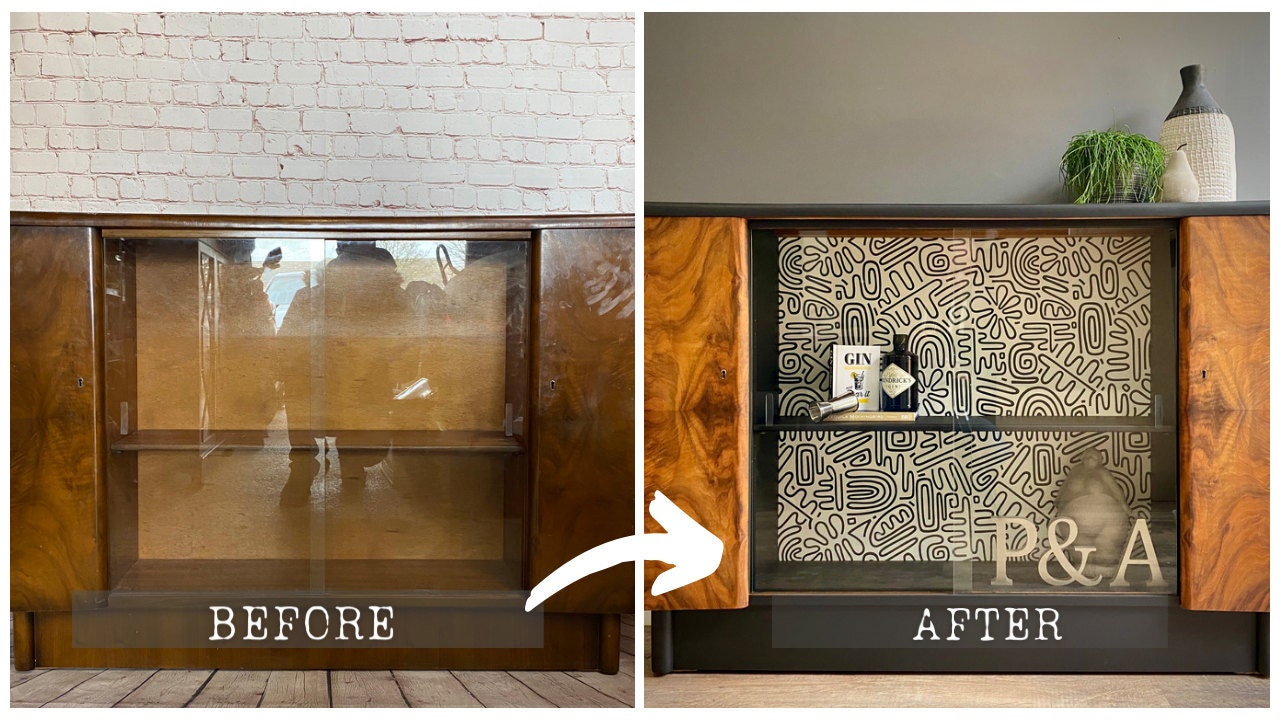 Where I get mine from:
Fusion Mineral Paint Hemp Oil (click here) 

Phew! If you've got to this part of the blog well done you!! I hope you have found it helpful and informative?!
What would you like to see in future blogs?
If you purchase any of the products mentioned above, let me know via social media (Facebook (click here) and/or Instagram (click here) about how you get on with them and what you make of them!
Good luck with your projects!
Paul 
Percy and Albert Interiors

Shabby Nook Associate (affiliate)
My blogs and social media posts may include relevant affiliate links all of which we do our best to clearly mark as such. As a Shabby Nook Associate, I may earn from qualifying purchases (which means that if you click on my links and make a purchase, I may receive a small commission). This result in any additional cost to you, and the affiliate money I earn goes towards paying the fees to keep my website (and blogs!) up and running – thanks for your support! All linked items are ones that I genuinely use on Percy & Albert Interior creations and personally rate.