Need a cocktail cabinet in your life but put off by the cost of those available on the market? 
If so, here's my very own IKEA hack which shows some of the steps it took for me to create this custom drinks cabinet for a fraction of the cost...
For those of you who follow me on Facebook and Instagram you'll know I enjoy updating tired old vintage china cabinets - but, they're becoming increasingly difficult to find (decent quality ones at least)!
So having long been a fan of "IKEA hacks" and seeing people transform generic, "samey samey" flat pack furniture into one-off bespoke pieces of furniture (and my usual 'vintage cabinets' being far and few between) I thought now would be a good time to have a go too! 
What could a piece of IKEA furniture look like with some Percy and Albert Interiors treatment 🤔
Intrigued and desperate to know, I took a large, solid pine IKEA IVAR cabinet and transformed it into this sleek pink and gold drinks bar...
Here's what you'll need to create your own and how I did it. For ease, I have included links (where relevant) to where you can buy the supplies from too. Please note: this blog contains some affiliate links, meaning I may earn a small commission if you decide to make a purchase using the links I have provided () - you can read more about what this means at the end of this blog.

Here's a list of tools, materials and products I used to create my cabinet. Substitute colours and materials accordingly:
Cabinet: 
IKEA IVAR cabinet (click here)
Paint and sundries:
Dixie Belle B.O.S.S. (I used white - click here)
Fusion Mineral Paint (I used Damask and Prairie Sunset - there are so many colours! Click here)
General Finishes High-Performance Topcoat (Flat - click here)
Staalmeester mini microfibre roller (click here) 
General Finishes Ultra Flex sanding sponges (click here)
Ronseal High-Performance wood filler (click here)
Decorative mouldings:
Light Hardwood Half Round Moulding - 22mm X 6mm X 2.4m (click here)
Gold leaf:
Imitation Gold Leaf - Transfers (click here)
Polyvine Metal Leaf Size
Polyvine Crystal Clear Lacquer (I use satin - go for gloss if you want high shine)
Legs:
I sourced mine from Amazon
Other bits you'll need:
Tape measure | Gorilla wood glue | Pencil | Saw 

Like most things from IKEA this cabinet comes completely flat packed along with all the necessary fixtures and fittings. It's tempting to construct the cabinet straight away but don't! Trust me!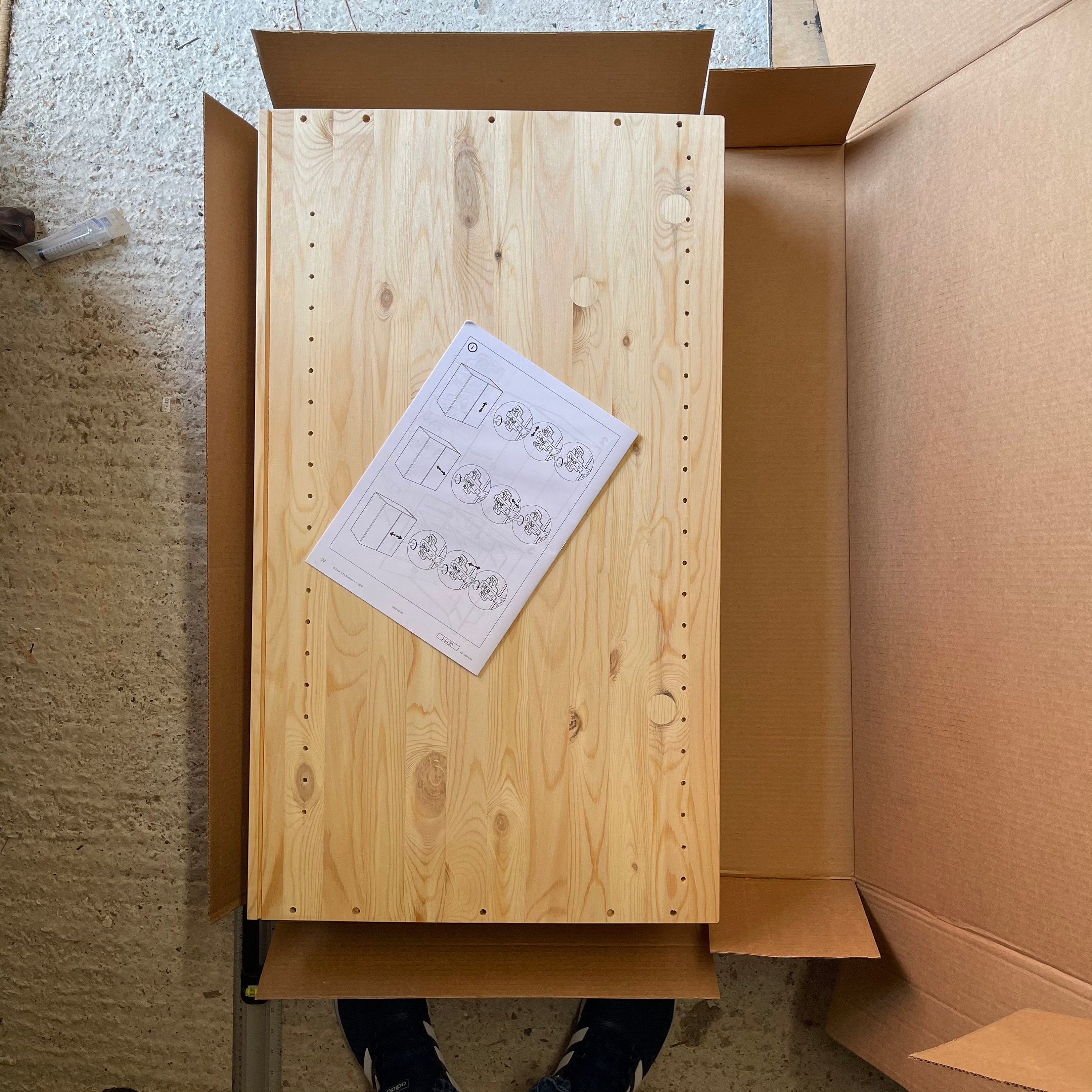 The advantage of the cabinet being disassembled is that you can prime and paint each individual piece. Individual boards of pine are much easier to work on and manoeuvre rather than one large, heavy, boxy cabinet!
The cabinet comes with two shelves. I only used one. The other I will paint and make into a painted wall hanging or practice board (no waste!)
Keep the instructions and fittings safe.

Being a pine piece of furniture, the knots can 'bleed through' paint - that means stains appear through your painted finish! Not good!! As this piece was going to be offered for sale I wanted to be 100% confident this wouldn't happen. Although Fusion Mineral Paint has a built in primer I wanted to give it a helping hand so I initially applied 2 coats of Dixie Belle B.O.S.S.
I used my beloved Staalmeester mini microfibre rollers to ensure a super smooth flat finish.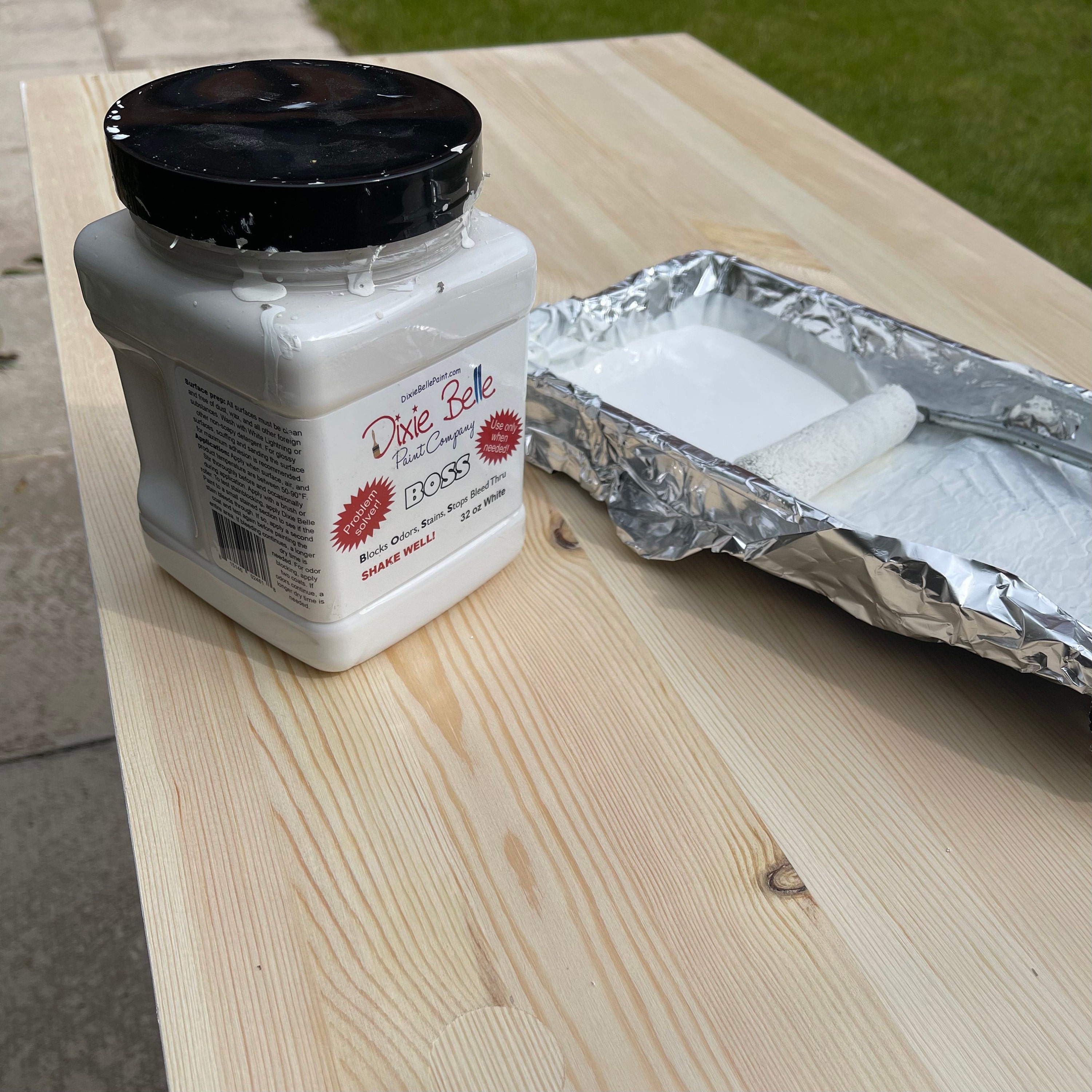 Now can you see why I said don't build your cabinet just yet 😉 These pieces have had their first coat of B.O.S.S. and are drying.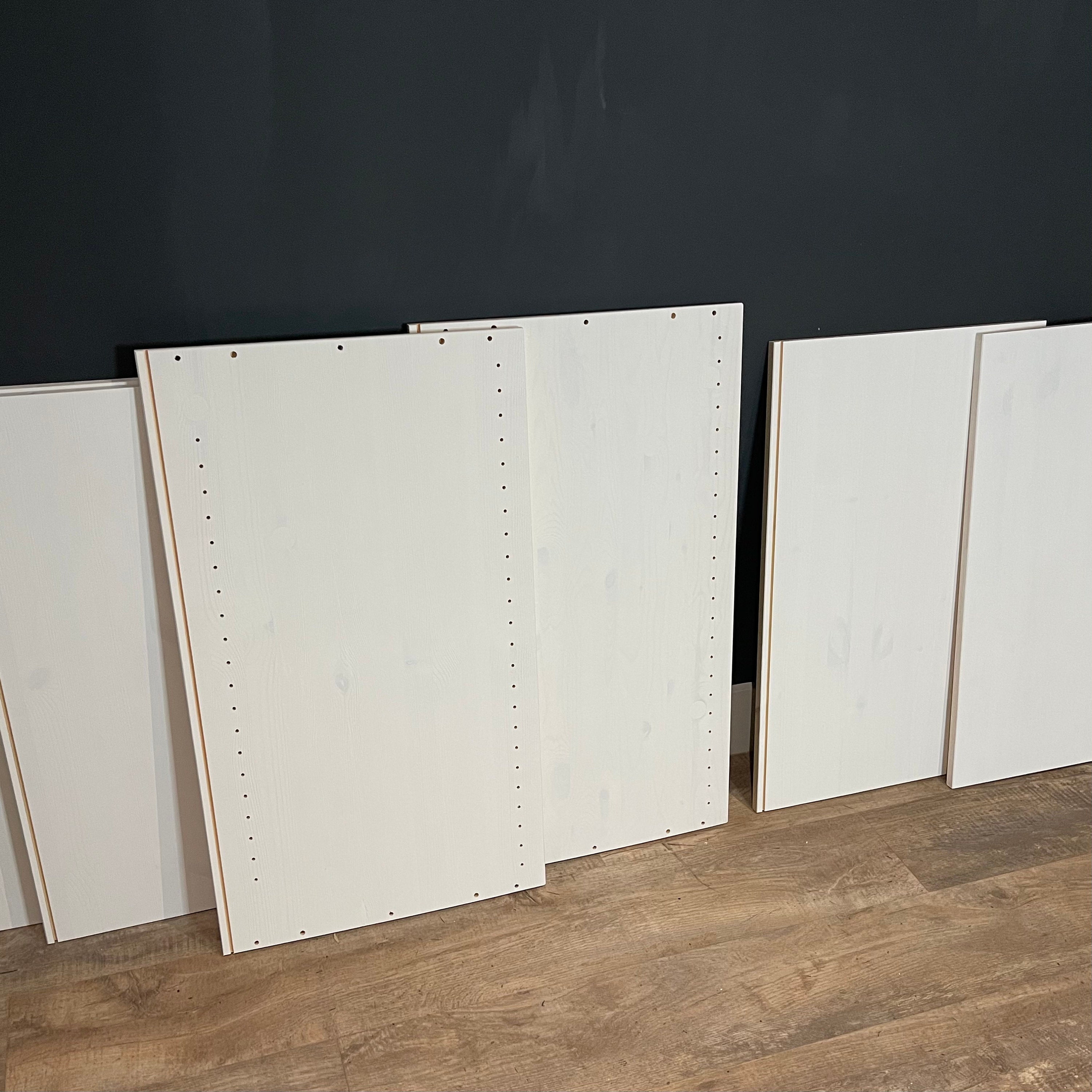 After a few hours they were given a very light sand using my General Finishes Ultra Flex sanding sponges and dusted down to smooth any raised grain and imperfections, ready to receive their second and final coat.
Tip: If you didn't use B.O.S.S. and experience 'bleed' during the painting process, or you used some, but the piece is 'bleeding' more than you anticipated, don't panic - just apply some B.O.S.S. to the affected areas. Leave to dry for a good few hours and repaint.

In hindsight, I should have done this before priming - but we live and learn! The door hinges attach to the upper and bottom two holes so I made sure not to fill these in. All the other holes are for the shelf pegs. I didn't want this piece to have adjustable shelving as I was installing lighting and glass racks, so using a bottle of spirits and some large glasses as a guide, I worked out where the best position for the shelf would be. I circled them on each board and used my Ronseal High Performance wood filler to fill the holes that would not be needed.
Once dry, a quick sand to smooth (and touch up of B.O.S.S. where appropriate) and the inside of the cabinet was prepped ready for the next stage.

The fun part! For my cabinet I have used two colours by Fusion Mineral Paint - a soft muted mauve/pink called Damask and believe it or not a warm cheery yellow called Prairie Sunset which you can't see - more about that in a bit.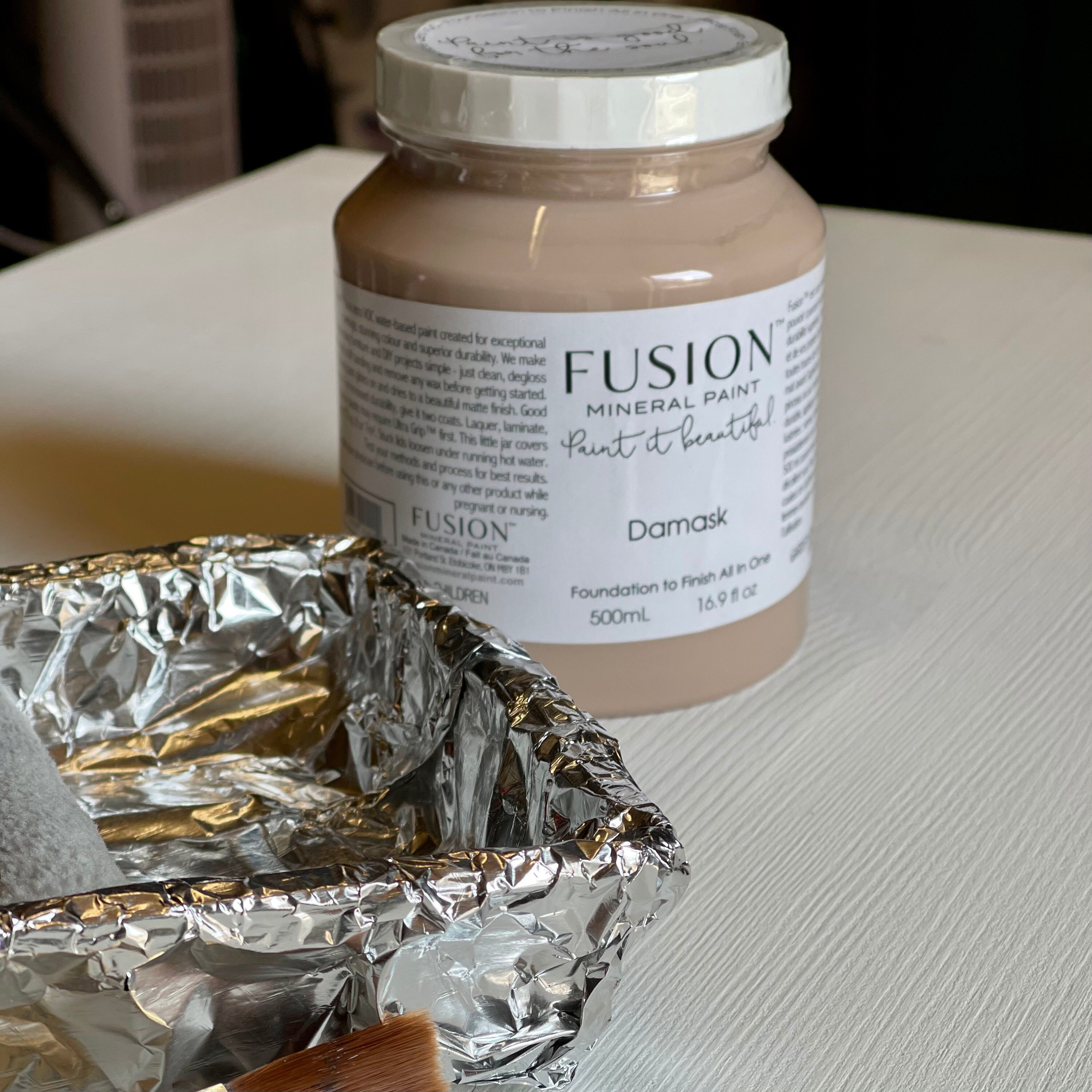 Using my Boldmere brushes (see my previous blog for details) and Staalmeester mini microfibre roller I applied two coats of Damask. Between coats, like I did when using B.O.S.S, I gave the piece a quick, light sand using my General Finishes Ultra Flex sanding sponges to ensure a super smooth finish.

At this point, every square inch of the pine has been primed and painted. Next, I applied my General Finishes High Performance Topcoat (Flat). Two coats, and like I did when priming and painting - a very light sand using my General Finishes Ultra Flex sanding sponges before the final coat.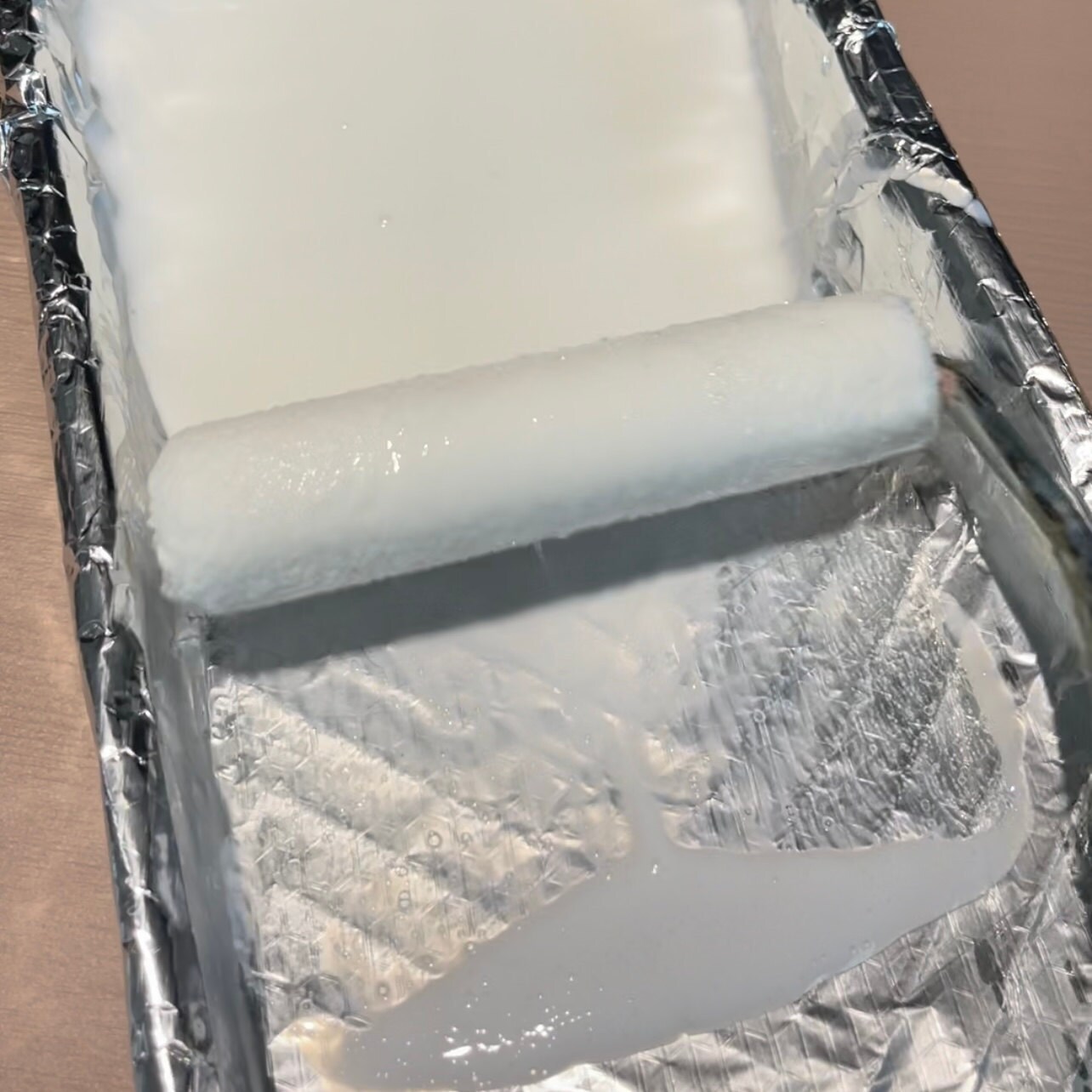 This top coat goes on really well with a roller. Simply load your roller, apply and finish each 'run' with a light touch and in the same direction. If you miss a bit don't worry, you can fix that on subsequent coats.
Each 'pass' (roller stripe) is obvious at this stage. Don't panic! It self-levels amazingly well... 

The backing board for this cabinet is a brown foldable fibre board which slots into grooves at the back of the cabinet.
Remember I mentioned I used Prairie Sunset, that was at this stage! Before applying the gold leaf I painted the board yellow. Metal leaf by nature is very thin and prone to tearing and ripping. Applying a complementary colour before the leaf (in my case yellow for gold) means if there are any fine imperfections they are much less noticeable! It also helps make the metal leaf more vivid in colour.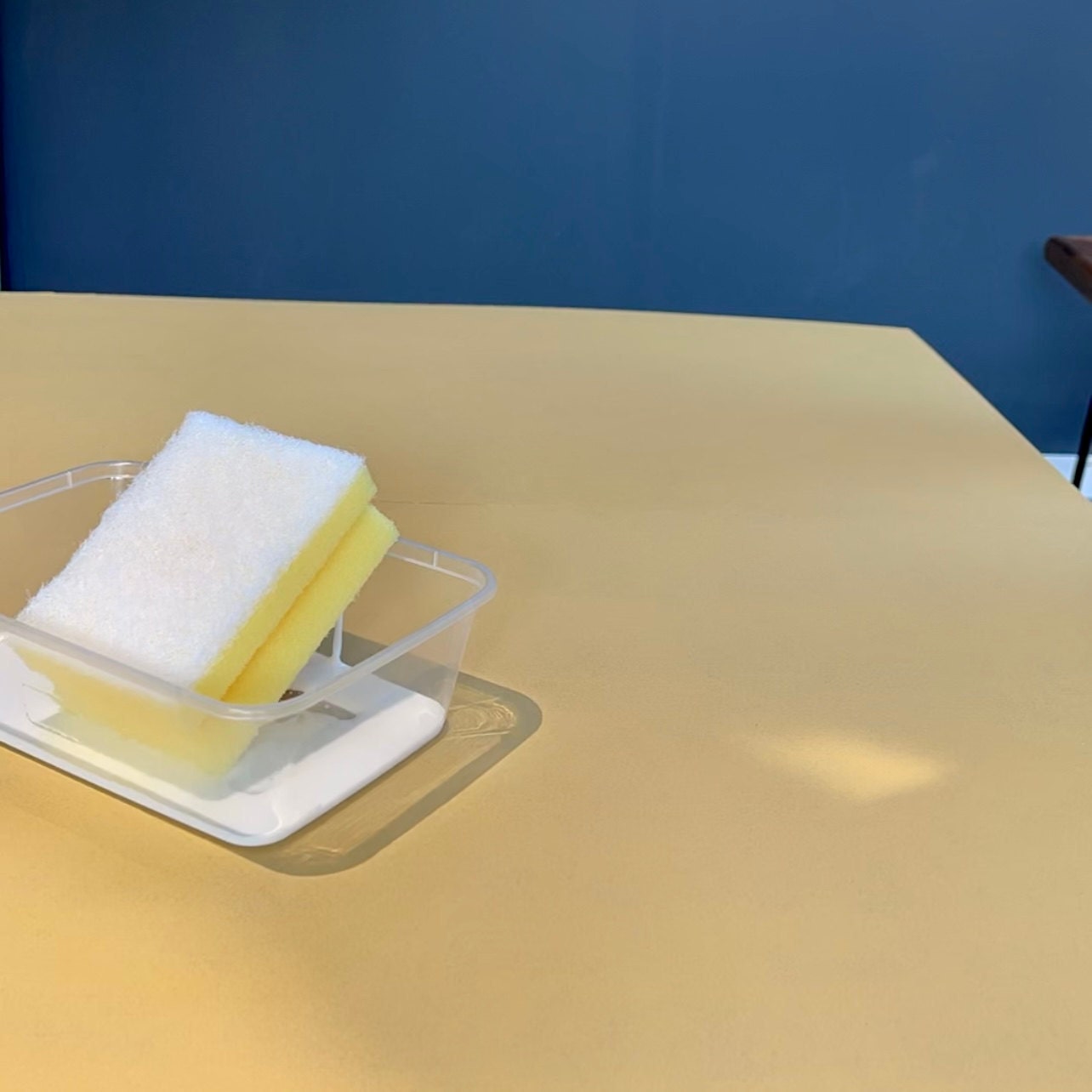 As I installed lights on the 'open' portion of this cabinet, I needed to identify where I needed to make my holes on the back board. To do this, I semi constructed the unit leaving the top off only. I slotted the backing board into it's position and placed the shelf on to its supports. I was then able to mark where I needed to drill my holes. I then removed the backing board, quickly drilled the holes for the lighting cables using an 8mm drill bit and proceeded to leaf.
Once the holes were drilled, it was time to apply the metal leaf size which I decanted into a small tub. I initially applied using a sponge as it was to hand, but it was soaking up too much product so switched to my General Finishes Poly-Gen foam applicator. After a few minutes it turned clear and was 'tacky'. It's at this stage the board was ready to receive the leaf.
Using the transfer leaf, I applied one sheet at a time, smoothed down and lifted the backing paper off so that the gold leaf was left attached to the board. I repeated this process until the whole board was covered. 
Next, it was time to rub/buff off the excess leaf. I used a soft makeup brush. agitated the overlapping/excess leaf until it had all been removed. (Warning - this is a messy process! I do this bit outside where possible...)
This is how my board looked at this stage...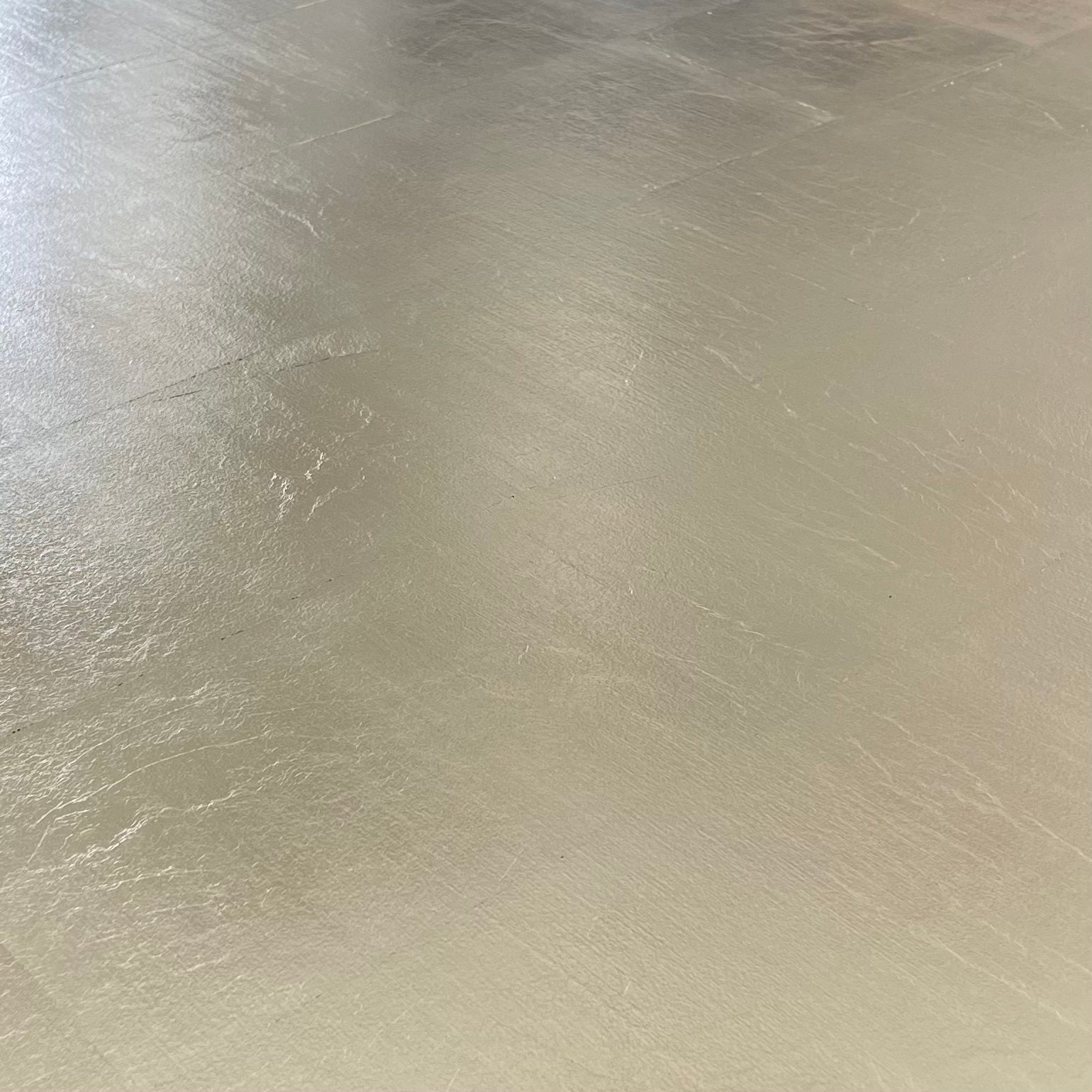 Finally it was time to 'seal' the gold leaf as left unsealed it will likely tarnish. I decanted my Polyvine Crystal Clear Lacquer into a tub. I use satin as I prefer the soft sheen it gives. Then, using a General Finishes Poly-Gen foam applicator I applied two thin coats, leaving a couple of hours for the product to dry between. 
The board was then complete 🎉 

Next, it's time to build the cabinet 🙌🏼 It's all starting to come together now... 
I left the door off as I needed to cut and apply the mouldings still.
I fixed the legs to the base shelf just before putting it all together. I used a strip of masking tape along the corner edges as a spacer/guide to ensure I placed each leg in the same position.
Finally, I attached the glass racks using screws and installed the lights, carefully threading the wires through the holes I had made earlier to the backing board. 

As the door front was going to be covered in mouldings I didn't worry about priming or painting that surface. Only the reverse (inside) of the door, the edges and the groove for the handle would be exposed. 
I measured the height of the door and transferred the measurement on to each moulding strip. Using a saw block I cut them into the appropriate lengths. Each strip produced two strips with a sizeable off-cut (I'm keeping them for a future project).
I then applied Gorilla wood glue to the door, laid each moulding strip one at a time and secured with panel pins. Take your time here and make sure everything is nice and straight - use the edge of the door as a guide.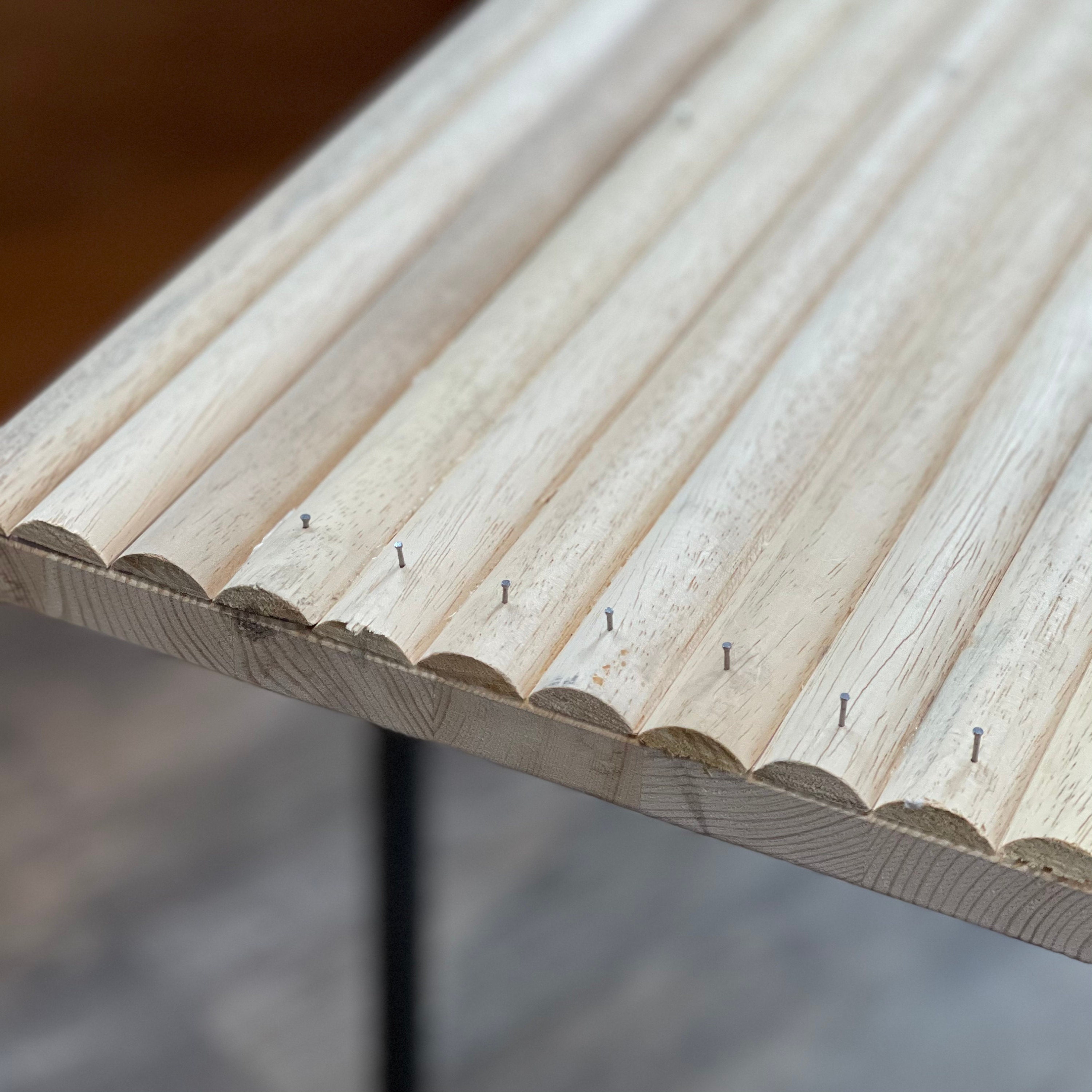 I initially left the pins slightly sticking up so I could make adjustments if needed. Satisfied everything was lined up and square I whacked them fully down. Don't worry about the little holes the nail heads create. I used a fine filler to fill them in with my finger. 
The next step for the door was to give two coats of Dixie Belle B.O.S.S. followed by two coats of Fusion Mineral Paint. Applied using brushes this time. Like always, a light sand between each coat to ensure I got a super smooth finish.

I then attached the door so one half of the cabinet was still exposed. This is where my 'hit and miss' mouldings were going to go. I attached these once the door was in situ as I could use the door as a straight edge/guide.
For the mouldings on the right hand side, I repeated the same process as I did with the doors. This time, using a tape measure, I measured the distance between the top and base of the cabinet. I then cut the mouldings to size, applied Gorilla glue to the areas where the moulding would make contact with the cabinet top, middle shelf and base shelf and secured with panel pins. I filled in the small holes left from the nail heads and then, primed and painted once fixed to the piece.

I decided to topcoat the mouldings once the door was hung. With all the 'dips' in between the mouldings I was worried the topcoat could 'pool' if I wasn't careful, at least by hanging the door, gravity would draw my attention to any drips. 
I applied my General Finishes High Performance Topcoat (Flat) using one of my Boldmere wash brushes (see my previous blog for details).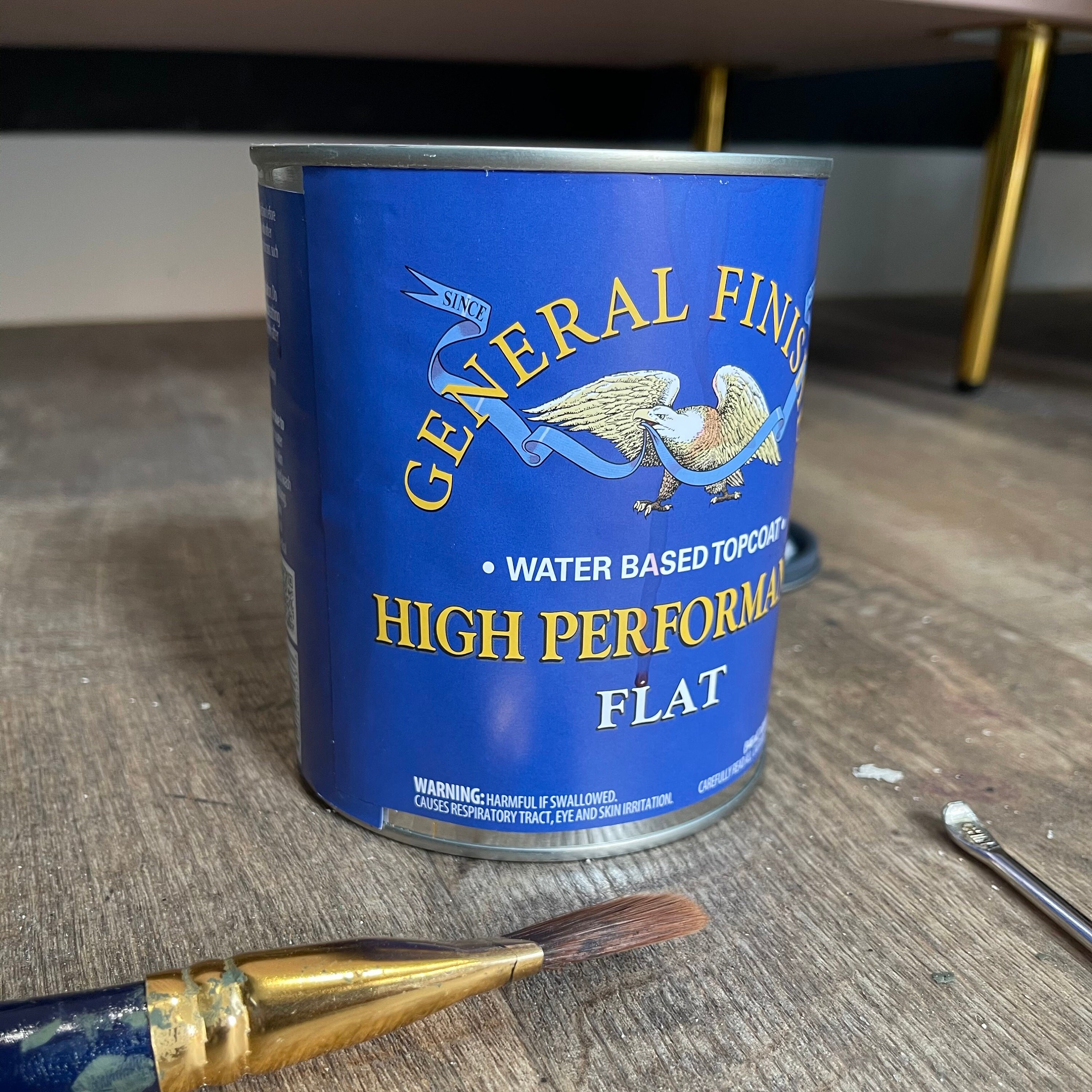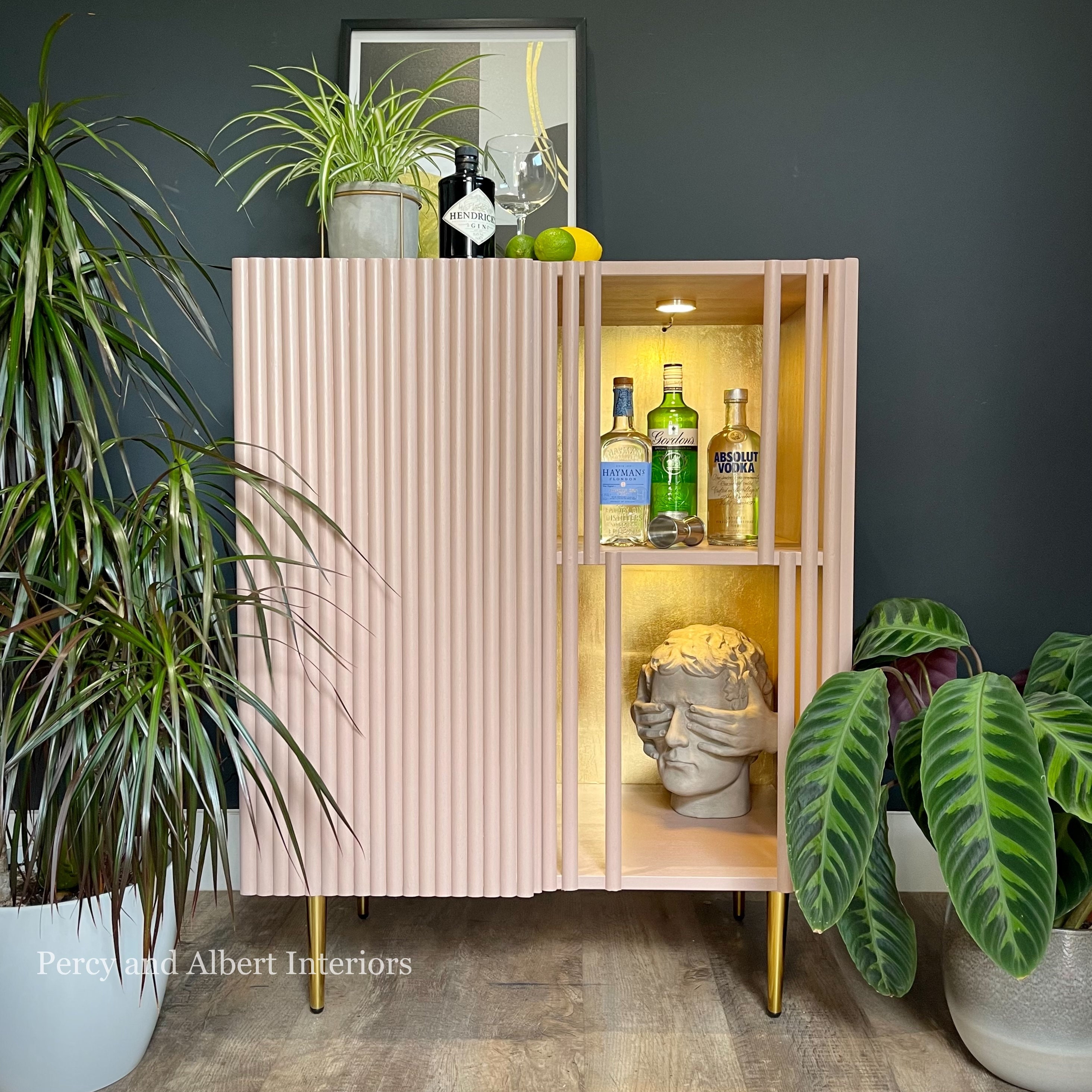 It's about now, I stand back and look at what I've made and give myself a little 'pat on the back'. Who would believe this started as flat pack pine?!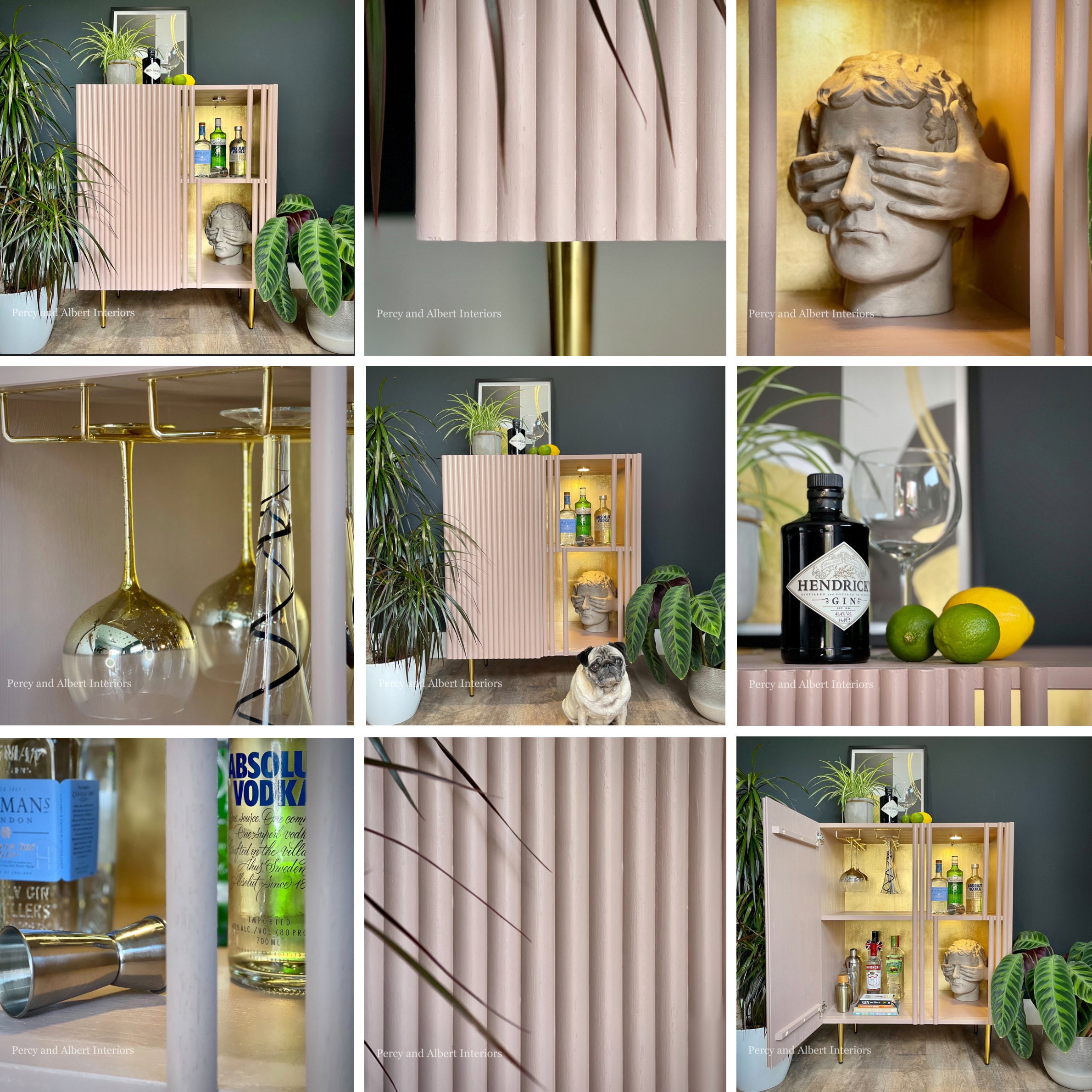 I hope you found this blog helpful and are feeling confident to create your own version? Be sure to tag me on social media (Facebook (click here) and/or Instagram (click here) if you produce one as I would love to see what you create! 
Likewise for my product suggestions - if you buy any of them tag me and let me know what you make of them! To get hold of the products I have mentioned, and much more, be sure to check out Shabby Nook by clicking here!
Good luck with your project(s)!
Until next time...
Paul
Percy and Albert Interiors

 Shabby Nook Associate (affiliate)
My blogs and social media posts may include relevant affiliate links all of which we do our best to clearly mark as such. As a Shabby Nook Associate, I may earn from qualifying purchases (which means that if you click on my links and make a purchase, I may receive a small commission). This does NOT result in any additional cost to you, and the affiliate money I earn goes towards paying the fees to keep my website (and blogs!) up and running – thanks for your support! All linked items are ones that I genuinely use on Percy & Albert Interior creations and personally rate.