For this blog, I'm going to share with you the products I use to refinish wood veneer. It's a very common question I get asked and thought it would make sense to share my product recommendations, hints and tips in one place…
I have included links (where relevant) to where you can buy the supplies too. Please note: this blog contains some affiliate links, meaning I may earn a small commission if you decide to make a purchase using the links I have provided () - you can read more about what this actually means at the end of this blog.

Put simply, a veneer is a super thin sheet of wood (literally a few millimeters) which is glued and pressed onto another piece of wood. Much of the mid-century furniture I work with will have a walnut or teak veneer applied to something like birch plywood.
As veneers are very thin, it is very easy to accidentally sand through them using electric sanders (don't ask how I know! 🙈). 
If like me sometimes you wish to have some lovely-looking wood grain on show with your project and want to avoid the risk of sanding through a beautiful veneer here's what I do…

To 'refinish' any wood, including veneer, it's important to remove all traces of the previous finish so you are working with bare wood again. Here's a list of the tools, materials and products I use to get the job done: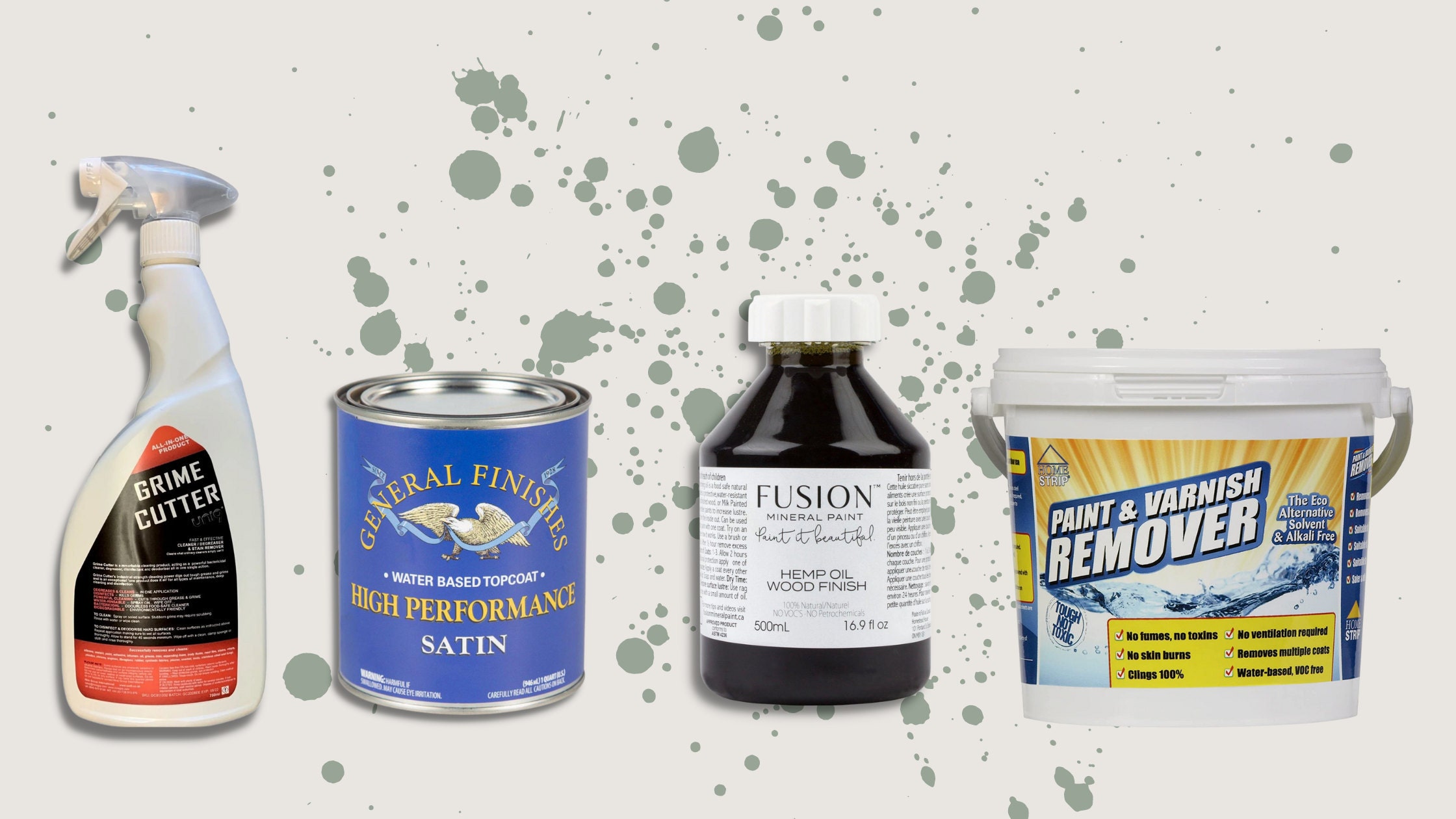 Home Strip Paint & Varnish Remover
Methylated spirit

Before starting, like with any piece of furniture, it helps to inspect the item thoroughly. If it has wooden veneers, there's a chance they may be lifting or bubbling in certain places. The stripping and cleaning process which follows this step will introduce moisture to the veneer so it's best to glue and clamp any areas of concern now.

Having gone over your piece with a fine tooth comb, and dealt with any issues that need attention, now is the time to thoroughly clean your piece. 
For the Home Strip Paint & Varnish Remover, or any stripper for that matter, to function effectively, it should have direct contact with the paint, wax or varnish you are removing. 
Use a good quality furniture cleaner to help get this part done as quickly and efficiently as possible. I use Grime Cutter (, Fusion TSP is my back up - which you will find by ). 
Apply your cleaning products as per instructions and get the item/veneer clean.
Once cleaned, remove all remaining cleaning residue with clean water and rags and dry using cloths.

Now your piece is squeaky clean it's time to apply the stripper. 
Apply a amount of the product using your synthetic bristle brush. Be sure to mask any areas where you don't wish to apply the stripper too.
The time needed for Home Strip to do its work depends on the finish that is being stripped. Typically 30 minutes is long enough. I tend to go back to the item about 15 minutes after the initial application to check if it still looks 'wet'. If it looks like it is drying in areas, I apply a few extra dabs of the stripper.

When the appropriate time has elapsed, it's time to remove the stripper from your piece. 
You want to use a paint scraper for this job, I get mine from hardware stores like Homebase and Wilko. Plastic is better where possible as metal ones can be harsher on wood.
In this short clip, you see me removing an old varnish finish from some teak veneer drawer fronts. Make sure you follow the direction of the grain when you do this!

If after scraping/removing the stripper you find some areas haven't stripped very well, reapply the stripper and leave for another 30 minutes before scraping off again. After removing the stripper with your scraper leave for approximately 60 minutes before the next step.

Your wood will look 'wet' thanks to the stripper product but will still contain some stripper residue. It's important that all comes off.
For this stage, I use a tiny amount of detergent (washing up liquid) mixed with lukewarm water to clean the item further and remove all traces of the stripper. 
I like to use Marigold scrunchies. Dip into your cleaning solution and apply to your piece taking care at all times to follow the direction of the wood grain.
Go gentle when you clean too, like when you were scraping, every time moisture is introduced to the wood it could cause fibres to rise. You want to be sure you don't snag any of these with your cloths, rags or scrunchie. Pay particular attention to edges where veneer could 'lift'.

Now the wood is squeaky clean and back to bare wood, it's time to let it fully dry. I leave for a good 24 hours. The wood will look much lighter, here's an example...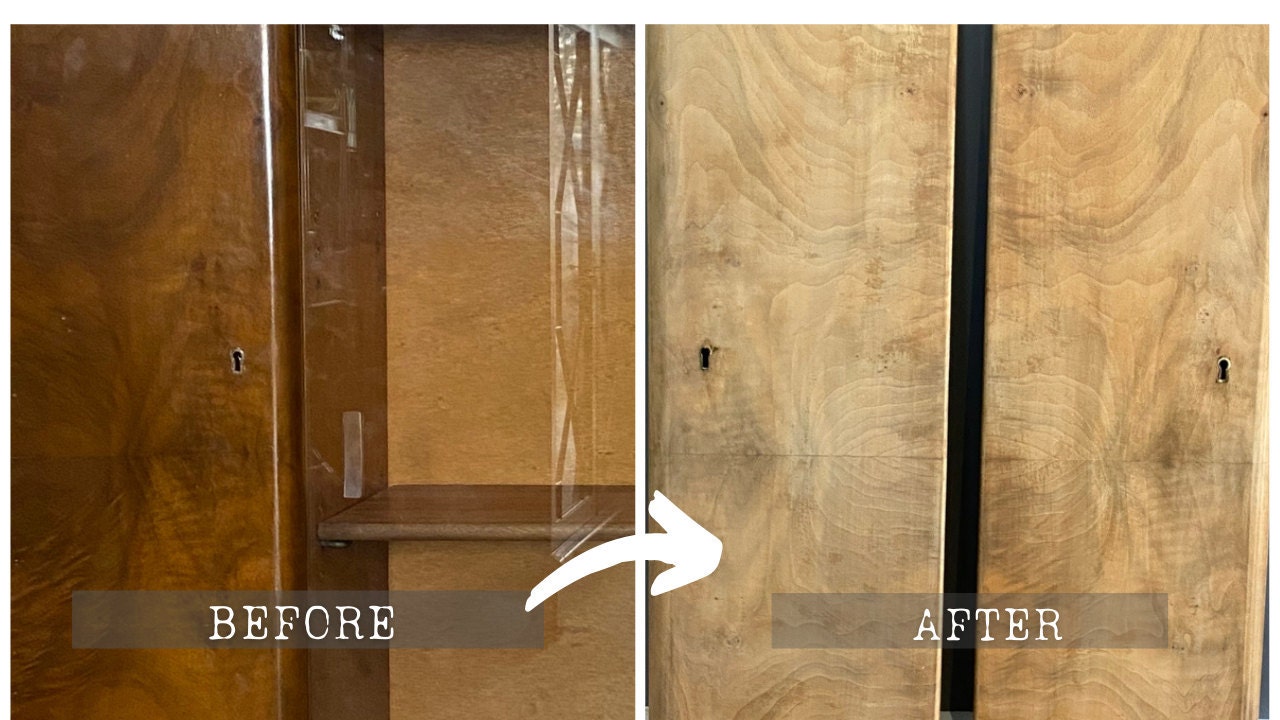 In preparation for a new top coat, you'll want the surface to be super smooth. Use 240+ grit sandpaper and sand by hand. Apply gentle pressure at all times - remember veneer is super thin! Follow the direction of the grain whilst sanding.
When the piece feels nice and smooth, use a tack or slightly damp cloth to remove all sanding dust.


Having removed the old finish, all stripper and cleaning residue and sanded the piece smooth it's now time to apply your topcoat of choice. There's a range so I'll talk about each...
HEMP OIL
Hemp oil is a natural oil and good for those with sensitivities. I have used it on both bare wood and previously finished wood surfaces to give them a freshen-up. It gives the wood a rich lustre. Super easy to apply too and you can grab some Fusion Hemp Oil by . 
As top coats go, hemp oil is not the hardest wearing although it will provide some protection against moisture. It does require reapplication every 6 months or so too, so be mindful of that if you plan on selling your piece. Perhaps include a small jar of hemp oil so new owners can reapply?
VARNISH
Admittedly you do not necessarily get the 'richness and depth' of oil but General Finishes High-Performance topcoat () is incredibly durable and robust. In the following clip, you see me apply it to some teak veneer drawers. It requires a couple of hours to dry and very light, fine sand between coats. 2 - 3 coats are usually sufficient. 
You can check out my blog (with videos) on how I apply General Finishes High-Performance Topcoat by .
OSMO POLYX WAX OIL
If you want the 'rich' look of an oil and the durability of a super strong varnish then Osmo is a good option. It's an incredibly hard-wearing, oil-based product - which means it's a bit smelly, just be mindful of that if you opt for water-based alternatives for that very reason. I have only used it once on the below teak door fronts. Being an oil-based product it takes several hours to dry between coats.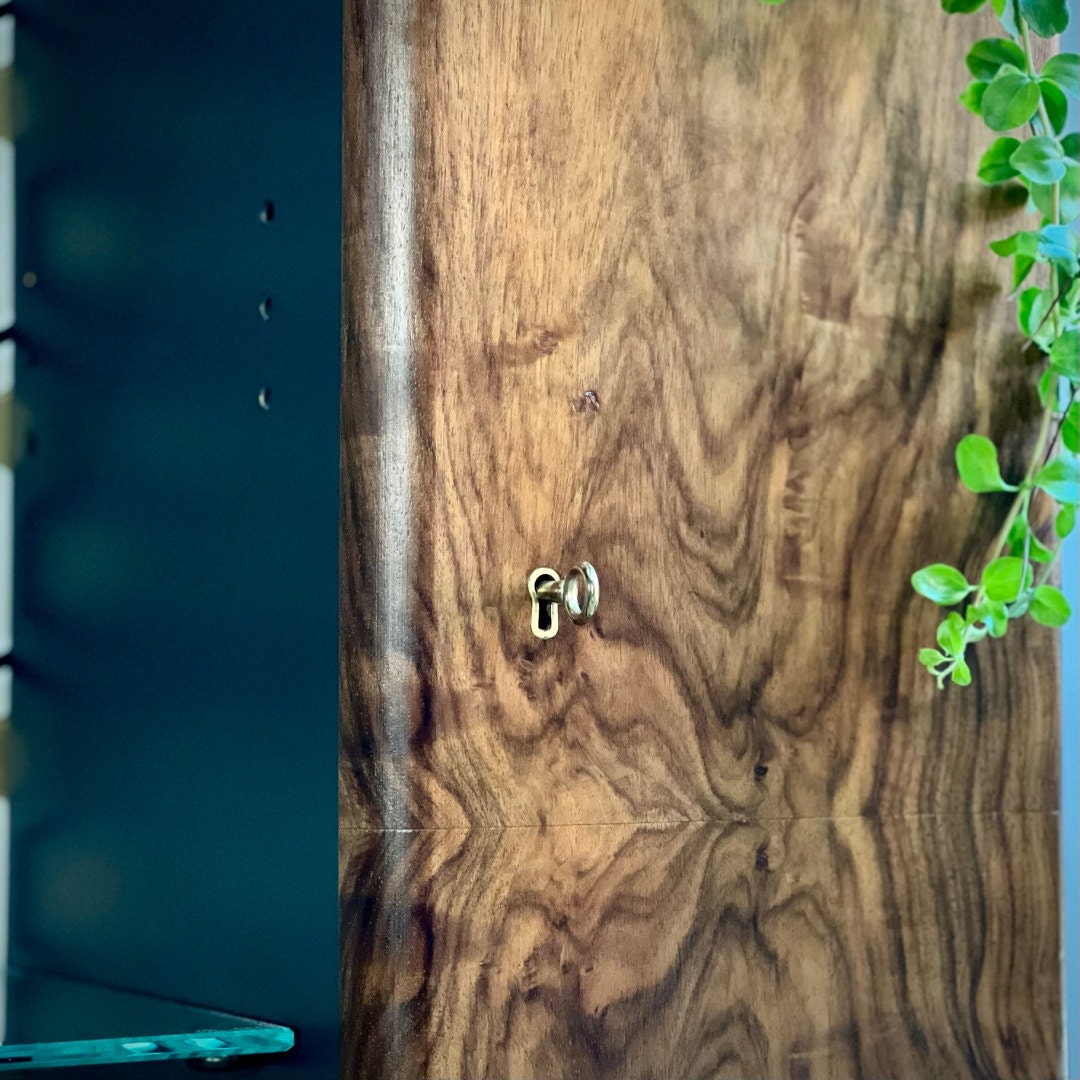 I hope you found this blog helpful! I am by no means an expert and regularly adjust and tweak my approaches based on things I see and hear but have achieved very good results with these techniques. 
If you purchase any of the products mentioned above, let me know via social media (Facebook click hereand/or Instagram click here) about how you get on with and be sure to show me what you create with them!
Good luck with your projects!
Paul  Percy and Albert Interiors

Shabby Nook Associate (affiliate)
My blogs and social media posts may include relevant affiliate links all of which we do our best to clearly mark as such. As a Shabby Nook Associate, I may earn from qualifying purchases (which means that if you click on my links and make a purchase, I may receive a small commission). This does NOT result in any additional cost to you, and the affiliate money I earn goes towards paying the fees to keep my website (and blogs!) up and running – thanks for your support! All linked items are ones that I genuinely use on Percy & Albert Interior creations and personally rate.