I hadn't intended to write a blog about how I choose colours and designs for projects but I had quite a few DMs asking if I could put one together as people wanted to know, so here goes...
I have included links (where relevant) to where you can buy the supplies from too. Please note: this blog contains some affiliate links, meaning I may earn a small commission if you decide to make a purchase using the links I have provided () - you can read more about what this actually means at the end of this blog.

So you've got your hands on a bargain piece of furniture - or you may have got it for free (even better!) but then you 'hit a blank' as to what you want to do with it... I have this a lot. 'Fear of missing out' (FOMO) means I buy things sometimes with no clue what I want to do with it. I just know if I don't snap it up quick then someone else will 😱
I'm going to share with you some of the ways I find colour and design inspiration for my projects...  I don't always get it right! I have on a few occasions painted something a few colours before I'm happy to share it with the whole wide world, but these techniques help me whittle a rainbow of colours down to a select few - or the one!

It's happened to us all. You pick up a colour chart, frantically flick through it and then you say, 'that's the one!'. So off you trot to buy your chosen colour, on it goes and it's such an anti-climax. You hold the small 'wishy-washy' coloured square in the colour chart against your painted piece (or wall) and it's not even close! It drives me nuts... 
Money, time, energy and effort all wasted, and you can't get a refund so you're stuck with a tin/pot of paint you don't actually like and back at square one 😖
I predominantly use Fusion Mineral Paint - click here to see all the different colours they have available. I get most of my painting supplies online from Shabby Nook who deliver to your door, but sometimes if I run out of paint part way through a project (#stressful) and need the stuff quick, I will pick up a pot from a local stockist. Irrespective of how you buy, not seeing the colour 'painted' (not just what it looks like in a pot) before buying is risky and can lead to disappointment...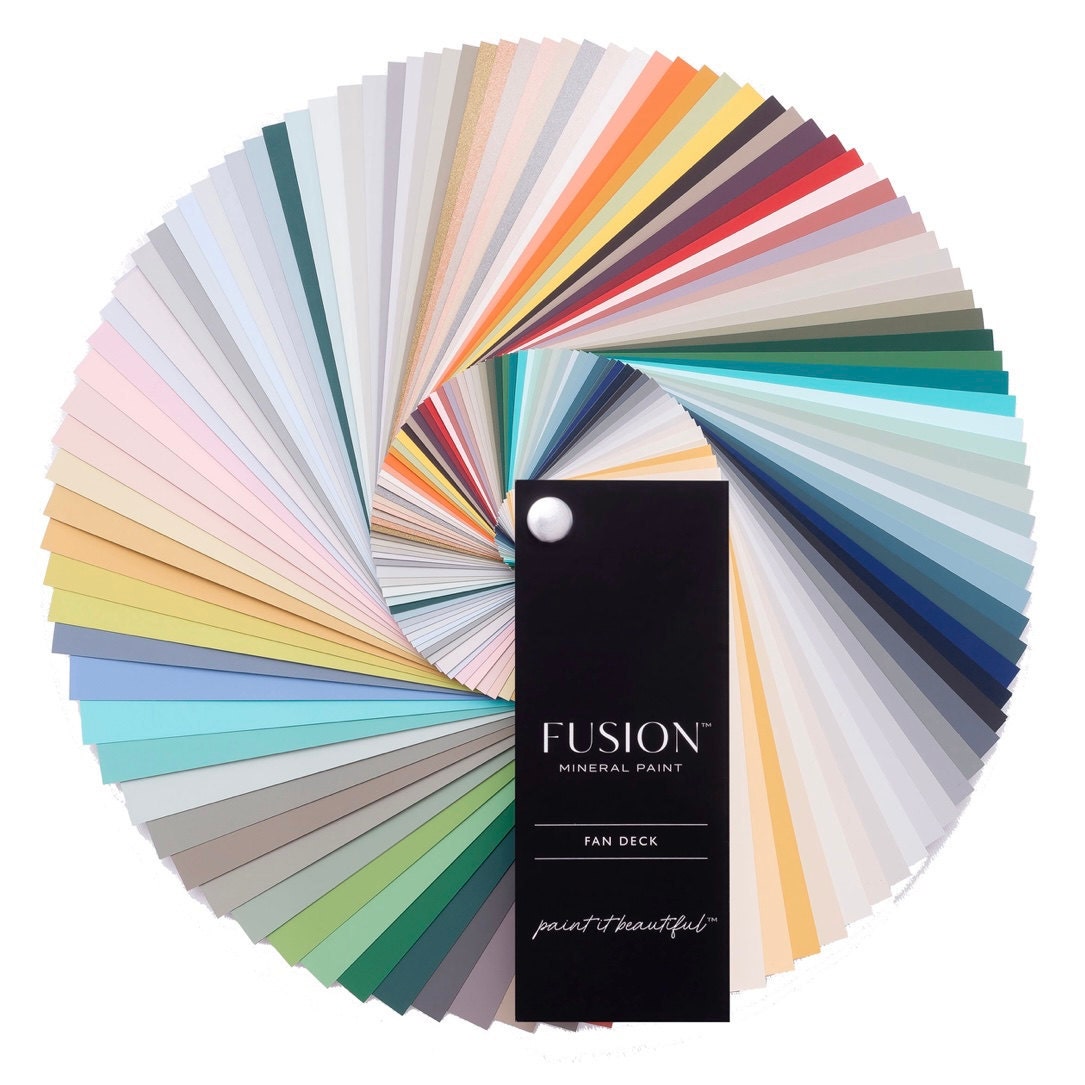 The Fusion Fan Deck colour chart is a deck of true colour swatches. They cost around £19.99 BUT trust me they will save you from making costly mistakes - my fan deck is genuinely one of the best investments I have made, and I use it on . You can buy yours by clicking here. 
It contains 114 swatches (that's not a typo - one hundred and fourteen!!) which includes their regular colours, metallics and 'recipes' so there's bound to be a perfect colour for your project.  The swatches are 2" x 5" (not piddly squares in a brochure) so you can really see what the colour looks like, hold it against wallpapers, walls and fabrics to be sure the colour you want to go to with is just right. The best bit - the colour accuracy is spot on! Here's Damask from my fan deck against a board painted with just one coat of Damask.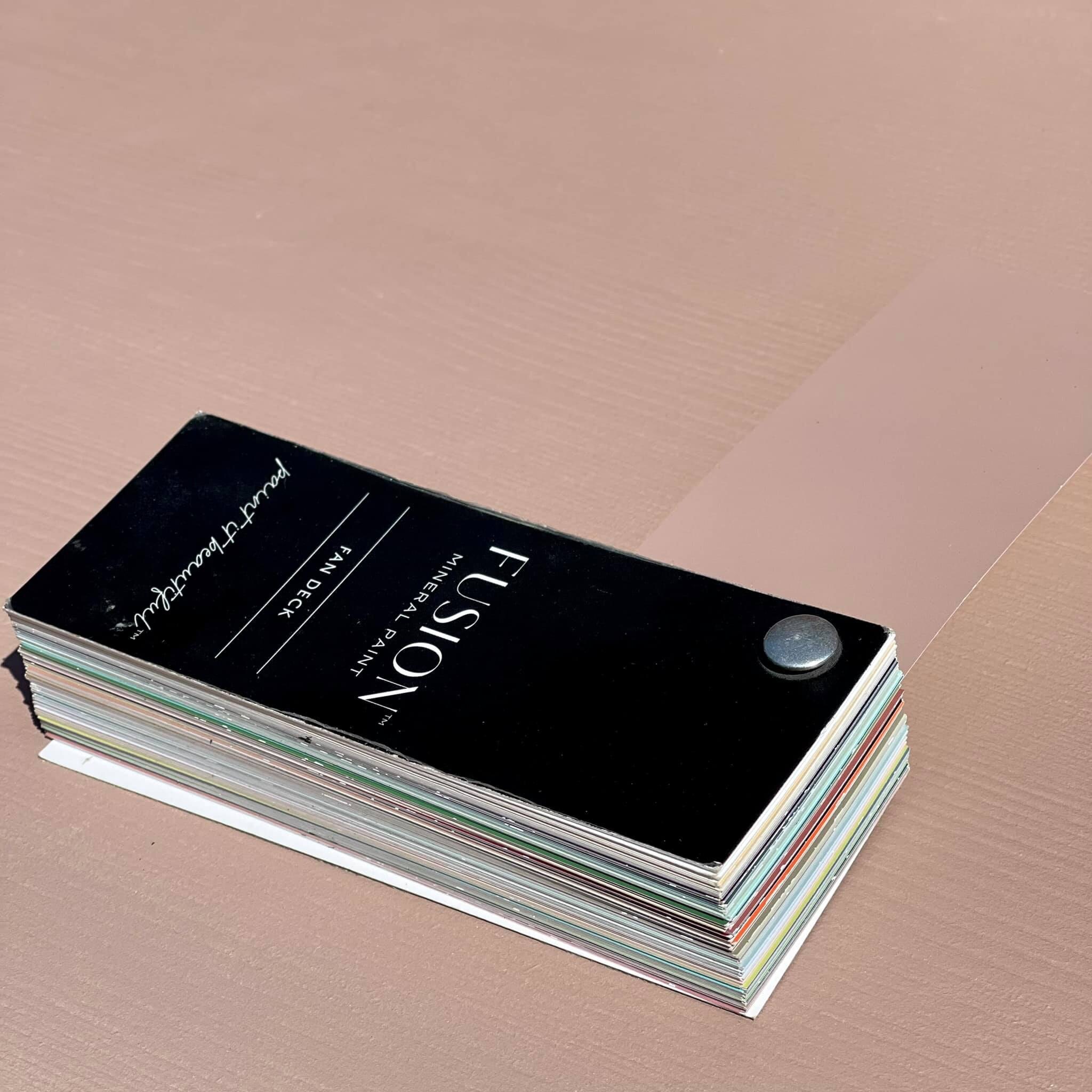 If you are wondering what 'recipes' are, they are custom mix colours. The deck contains 50+ swatches of custom colours, find one you like, flip it over and it tells you how to recreate it. All recipes use either a 50:50 mixing ratio (nice and easy) or are made by mixing a small tester pot into a regular 500ml paint pot - again super easy! 
Here's what the custom colours look like in the fan deck: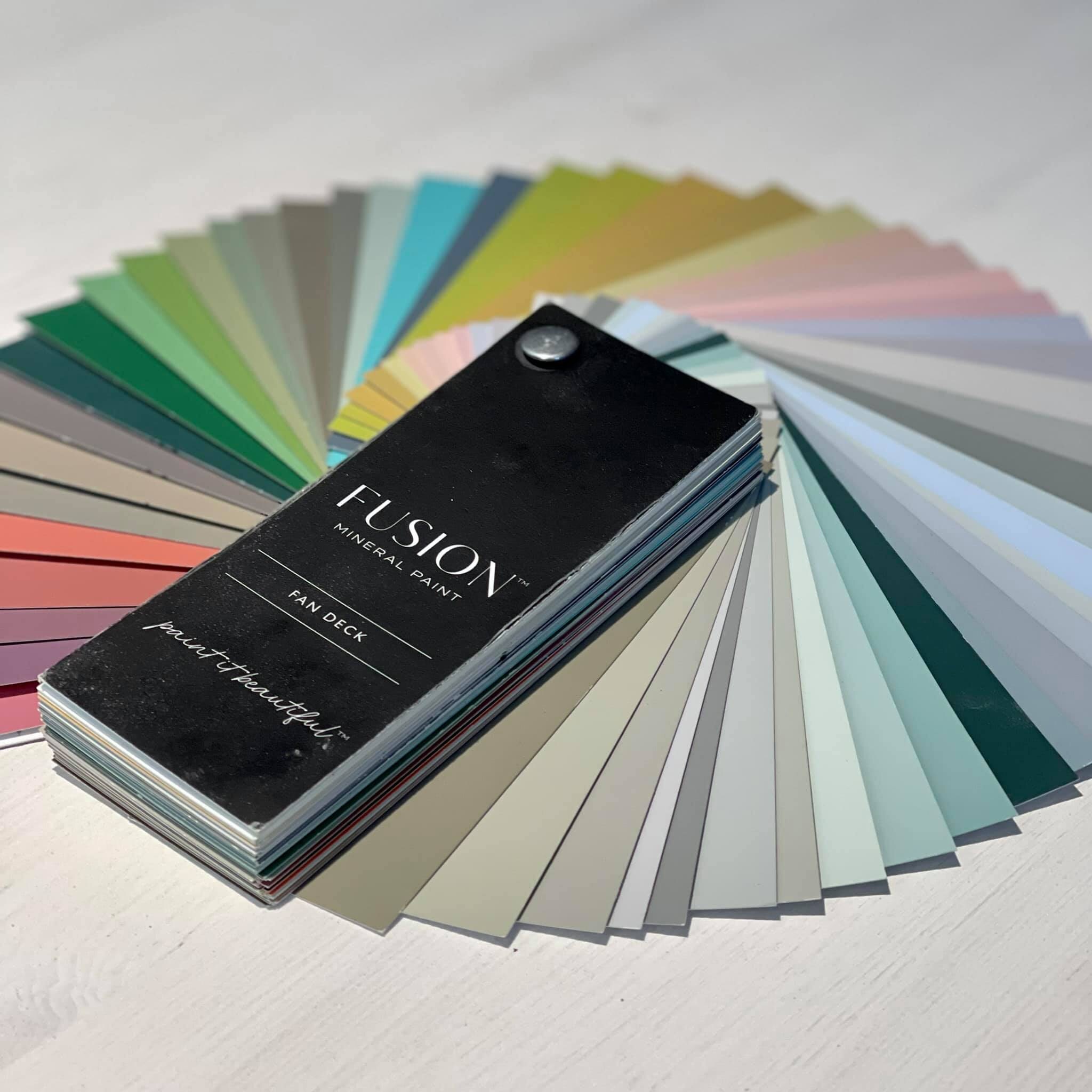 Here's one of the custom colours called 'Muted Turquoise'. The recipe is nice and simple 50:50 Azure with Renfrew Blue.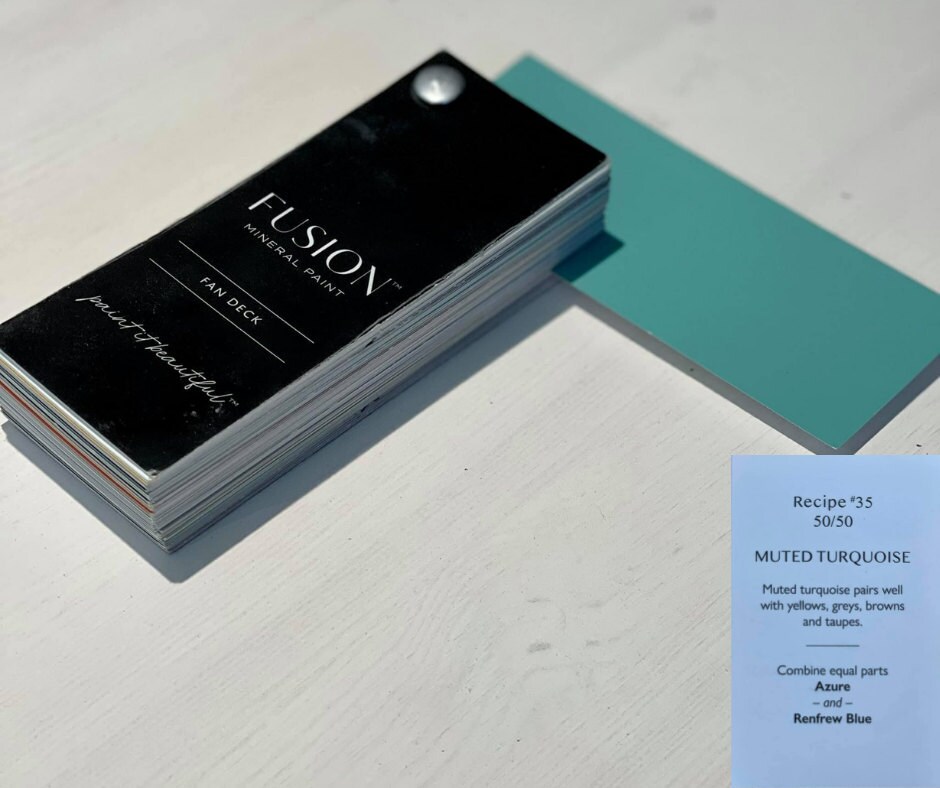 Another cool feature of the Fusion Fan Deck in particular is on the back of each swatch it not only tells you the name of the colour (that's obviously very helpful!) but it gives some suggestions for colour pairings. 

Another way I try and get colour and design inspiration is by looking online. Facebook, Instagram and Pinterest are my go-to apps. These apps/websites help me to visualise what a piece might look like...
Facebook
On Facebook, it helps to join lots of furniture painting and upcycling groups/pages. Using the search bar, you can type in a colour or description of your piece and you'll be presented with hundreds of creations. If you want an idea of how a particular paint brand colour will look, be sure to join their Facebook page/groups (e.g. Fusion Mineral Paint's Facebook group is called "Paint it Beautiful") and type the name of the colour into the search bar.
Instagram
With Instagram, hashtags are how you search for ideas. Want to see what Fusion 'Renfrew Blue' looks like on a piece? Try #fusionrenfrewblue or #renfrewblue. Perhaps you're wanting to paint an item yellow, try hashtags like #yellowfurniture or #yellowdresser (assuming you have a dresser to paint - you get the idea) and your screen will be filled with yellow dressers. Play about with terminology too, for example in the UK we say 'bedside tables' but in the US, they may be referred to as 'nightstands'. So, if I want to see some examples of green bedsides I would use the following hashtags #greenbedside #greenbedsidetable and #greennightstand
Pinterest
Pinterest is also a very good app/website. Use the search bar as described above and you can 'pin' (save) items you like to a board to create a virtual mood board. Not every pin I save is saved because I love everything about the image. It may just be a small feature that I like and want to throw it into the mix with all the other images I have saved.
The main thing to remember when searching for images and admiring other people's work is that you don't want to 'copy' what they've done. Take inspiration from what they have done (of course!) but 'make it your own' and put your own 'twist' on it. Pablo Picasso famously joked "Good artists copy, great artists steal" - confused?
Well what it means is "a good artist simply copies another person's art. A great artist selectively takes (steals) elements from multiple sources and then creatively combines their influences to create something that is uniquely their own." (J. Connolly, Creative Thinking Hub).

If you plan on using a print in your design such as wallpaper, it can be helpful to take colour inspiration from the paper. 
Be bold...
For a bold look pick out a dominant colour from the paper or choose a colour which doesn't feature on the paper. For example, this cabinet has been painted a pastel pink but there is no pink in the simple wallpaper, for me, this means my eye is first drawn to the pink cabinet and then the simple wallpaper inside.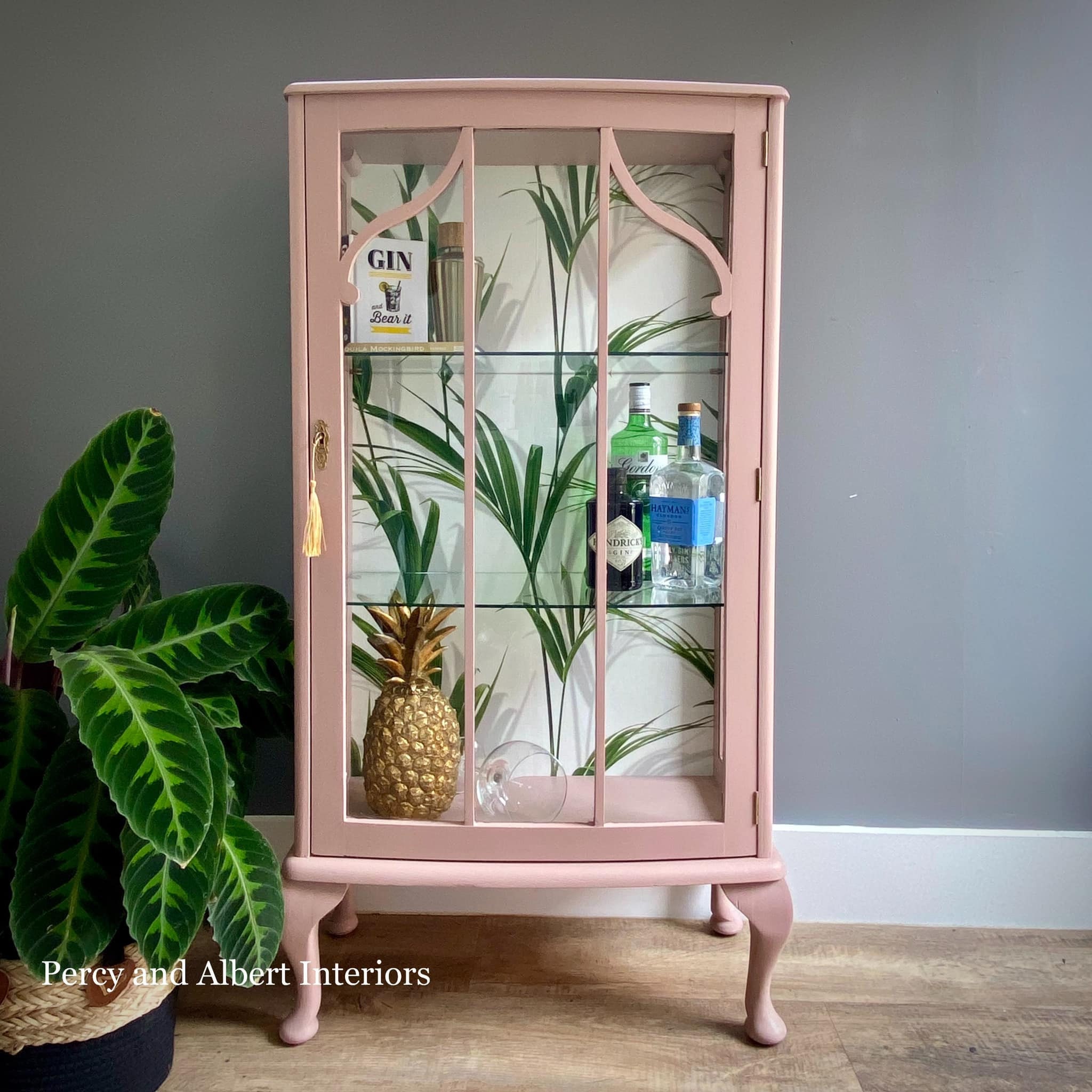 Another example of a bold look is this cabinet. I used three different mixes of Fusion Mineral Paint Midnight Blue and Pressed Fern to create an inverted ombré (dark blue-green at the bottom blended to a dark green-blue on top). The paper has lots of greens in it so works well.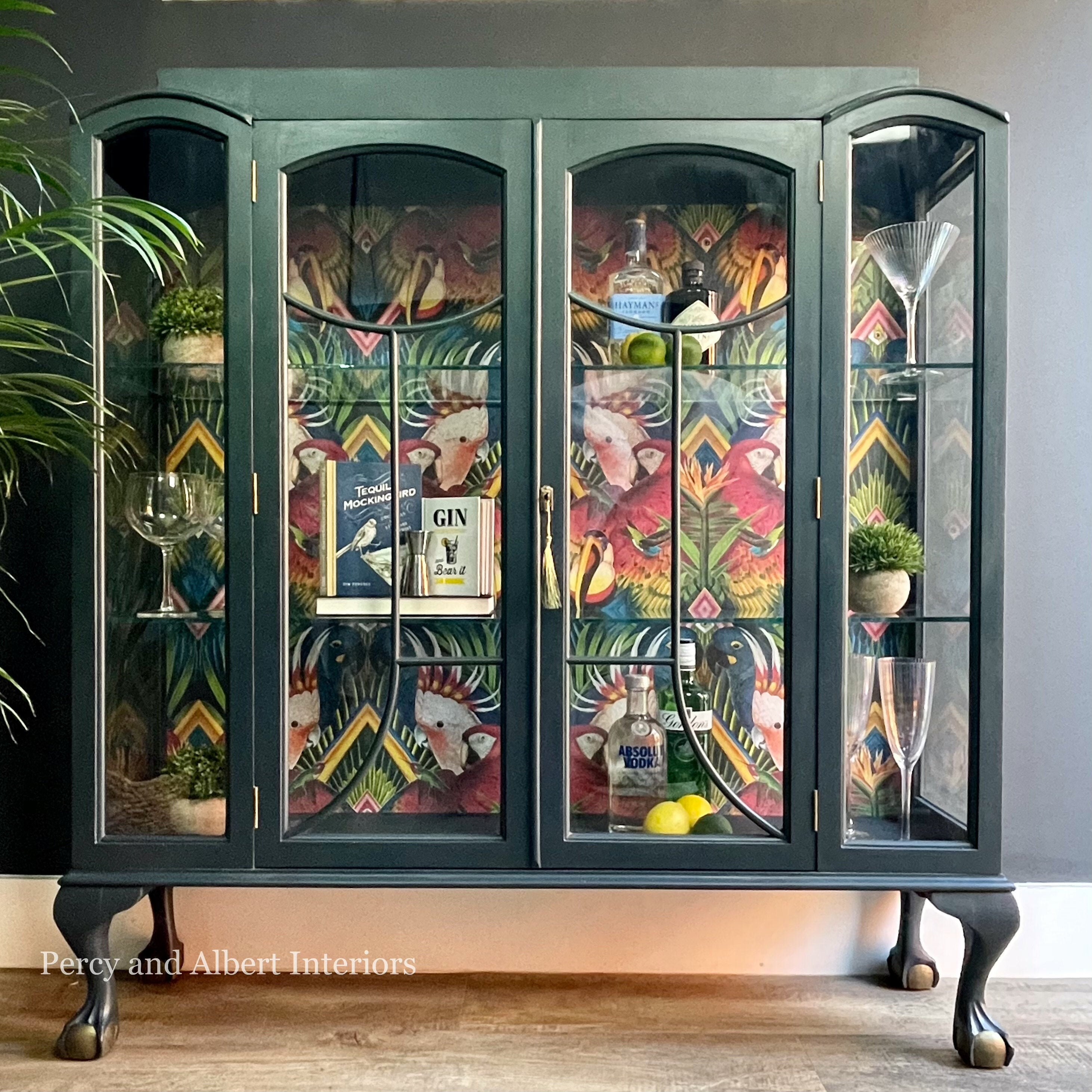 Harmonious looks...
For a coordinated look pick an accent colour (less dominant colour) in the wallpaper and replicate it on your furniture. In this example I used Fusion Mineral Paint in the colour Bayberry (one of my personal faves - it's such a lovely olive green shade). The wallpaper is very muted, but I used the colour of the bulrush to choose my paint colour (holding my fan deck against it of course!). The result a cohesive look, for me this means I see the entire piece as one thing - the wallpaper and paint grab my attention equally creating a harmonious look.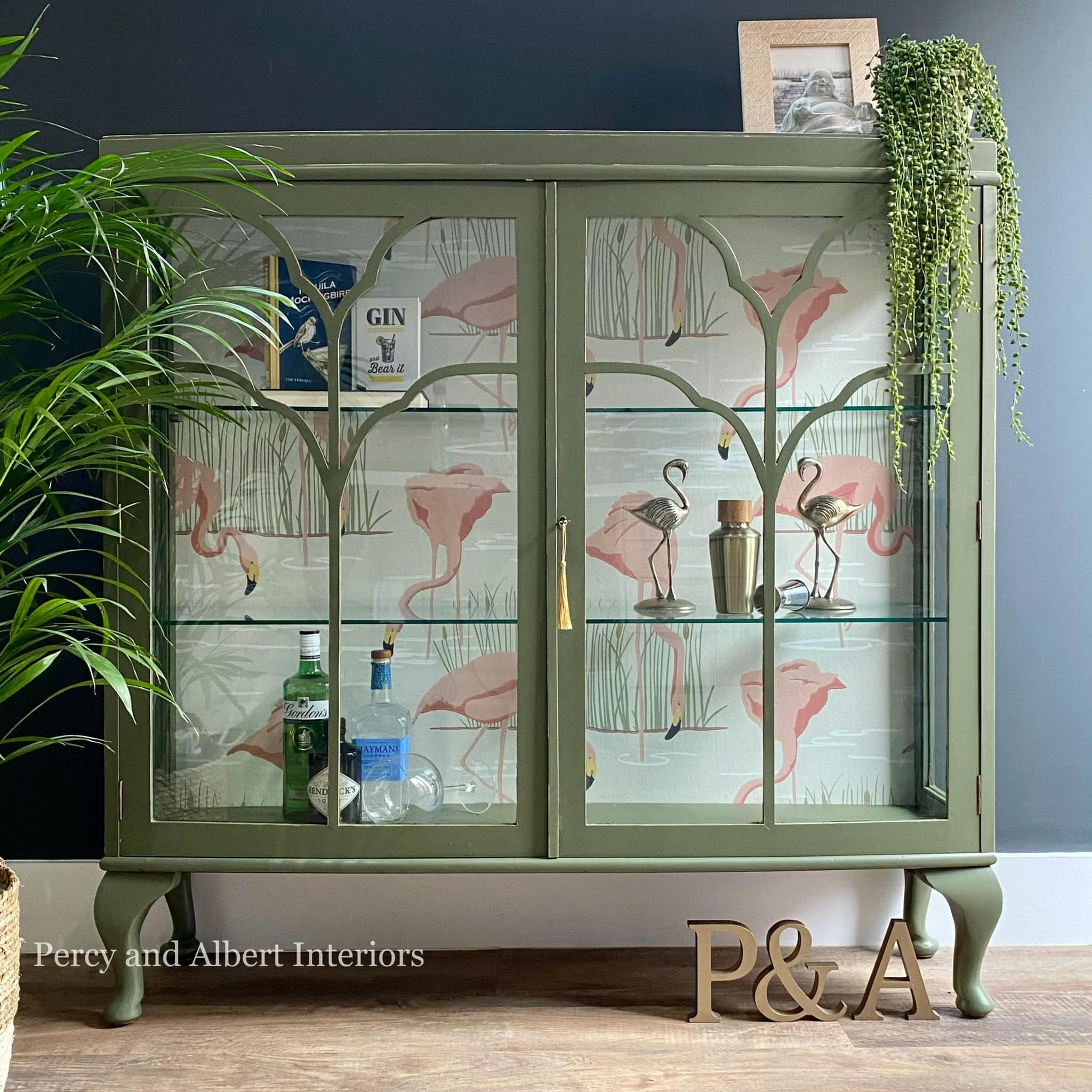 Keep it neutral and simple...
Finally, maybe you don't want to use a colour from your wallpaper, or you have such a fab wallpaper you want that to be the 'star of the show'... If this is the case stick with neutrals. Blacks through to whites (and shades of in between) will mean your eyes are drawn to your wallpaper and not the painted furniture. In this example, I painted an oak Meredew bookcase using Dixie Belle Silk in the colour Anchor (click here to see other Silk colours and get yours) and used a bold graphic print. Neutrals, including black, are easy on the eye and so my attention is grabbed by the wallpaper - not the black bookcase. 
Imagine this print paired with a bold funky colour like chartreuse (yellow-green) - it would certainly be attention-grabbing (but would probably give me a headache at the same time 😂)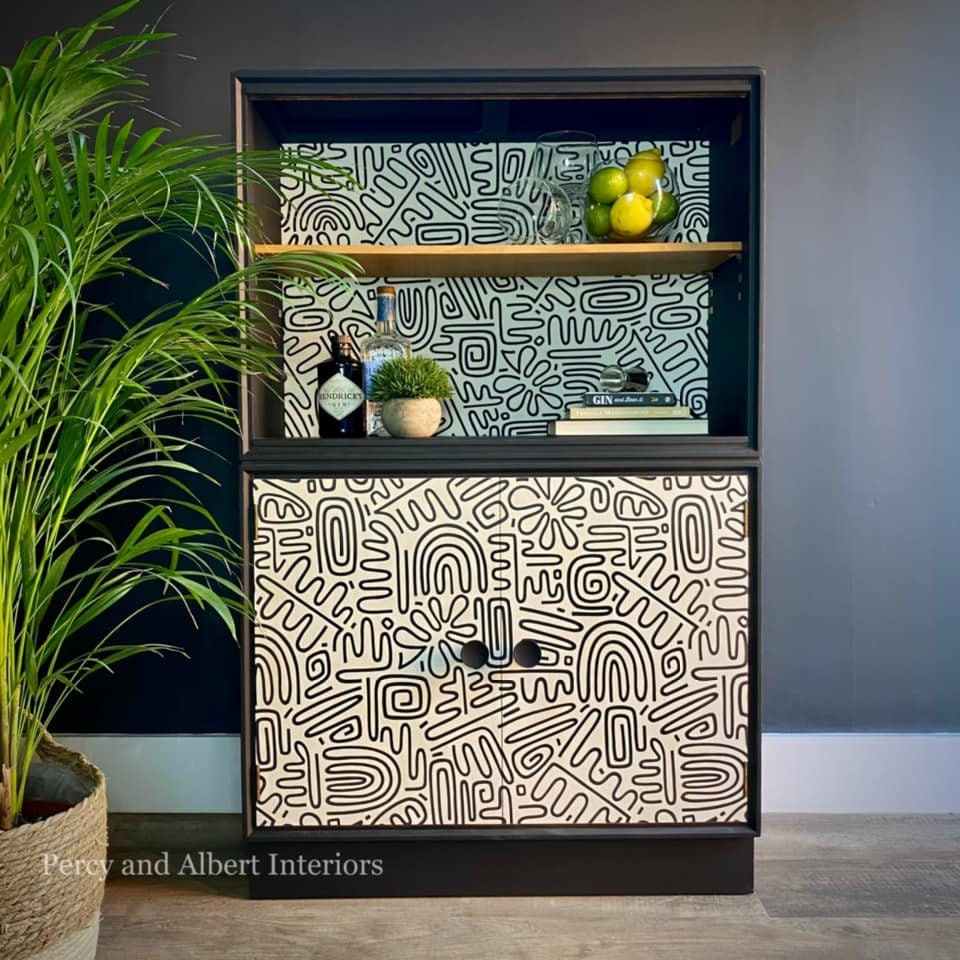 Once you've picked a colour and design, and created your piece - don't forget to protect your project! I highly recommend General Finishes High-Performance Topcoat - I prefer flat (it has a very soft sheen) - you can get yours by clicking here...

If you haven't done so already be sure to check out my first blog - you can view it by clicking here. It gives a of all my go to products.
Feeling inspired to tackle your next project and need supplies? If so, visit Shabby Nook where you can find a wide range of paints, sundries and even hardware for your projects - click here to take look!
I hope you have found this blog informative. Please do share it with friends who you think may find it useful. If you buy any of the products mentioned or use the suggestions to create a piece don't forget to tag Percy and Albert so we can swoon over your creation and share with our followers. You can find us on Facebook, Instagram and Pinterest.
Have fun experimenting with colour and design and if it doesn't look right - it can always be repainted if you're not happy. Hopefully using the fan decks and suggestions I have given will mean this won't happen!!
Until next time...
Paul
Percy and Albert Interiors

Shabby Nook Associate (affiliate)
My blogs and social media posts may include relevant affiliate links all of which we do our best to clearly mark as such. As a Shabby Nook Associate, I may earn from qualifying purchases (which means that if you click on my links and make a purchase, I may receive a small commission). This does NOT result in any additional cost to you, and the affiliate money I earn goes towards paying the fees to keep my website (and blogs!) up and running – thanks for your support! All linked items are ones that I genuinely use on Percy & Albert Interior creations and personally rate.