I recently revamped our smaller guest bedroom which has been very neglected since we moved into our new build home back in 2018. It was just four boring white walls and mis-match decor and furnishings. 
As well as painting the whole room, adding new furniture and accessories, I wanted to create a custom headboard for the small double bed that lives there. There's plenty of lovely looking headboards on the market for standard doubles but small doubles - nothing that nice.
I decided I wanted to create a headboard from scaffold boards and stain them dark to compliment the new black stained IKEA Hemnes furniture I added to the room. 
In this blog I'll talk you through how to create and apply a paint colour wash, and for those of you interested, how I took 4 custom cut scaffold boards and turned them into a headboard….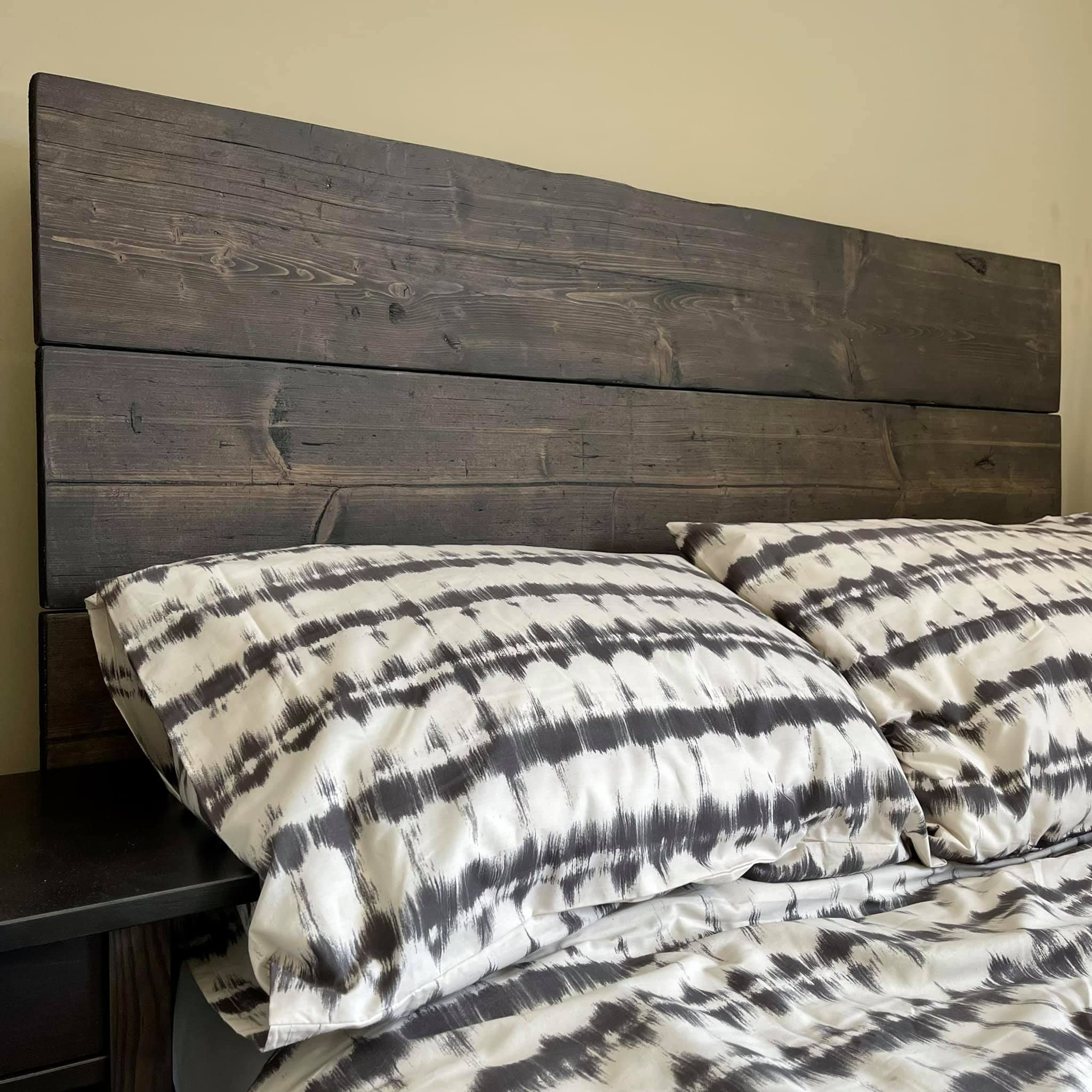 I have included links (where relevant) to where you can buy the supplies from too. Please note: this blog contains some affiliate links, meaning I may earn a small commission if you decide to make a purchase using the links I have provided () - you can read more about what this actually means at the end of this blog.

Put simply, it's a mix of paint and water applied over wood or existing painted surfaces, which when wiped back leaves a tint. White washing (white paint + water) is very popular and gives a great weathered look.
Naturally you can use any paint colour so there are some really cool looks that can be achieved using this really easy technique.
Using black as I am for this project, gives wood a dark, charred and aged appearance.

Here's a list of the tools, materials and products I used to create my colour wash (and headboard). Substitute colours and materials accordingly:
Paint and sundries:
Paint (I used black paint from the Dixie Belle Silk range in the colour Anchor but you could substitute for a white or even a coloured paint! - click here to order yours)
Paint brush (I applied my wash using my Dixie Belle Mini brush - click here to order yours. A budget friendly brush, and a handy one to have in your stash would be the Fusion Mineral Paint Chip brush - you can grab yours here).
Continuous fine mister bottle (click here to order yours)
Old rags/lint free cloths
220 grit sandpaper
For the headboard:
2 x 2 inch timber
Headboard wall fixings 
Screws
Scaffold boards (I ordered mine locally from a company called Comley Relcaim)

These scaffold boards have had a previous life so have lots of dings, dents and cracks which I just love - each board is truly unique.
The boards are typically finished with 120 grit paper, but as they are going to be used as a headboard I wanted them to feel smoother. I used my orbital sander, with a 240 grit paper to give a quick sand and smooth any blemishes.
Once completed, dust down the board to remove all traces of dust.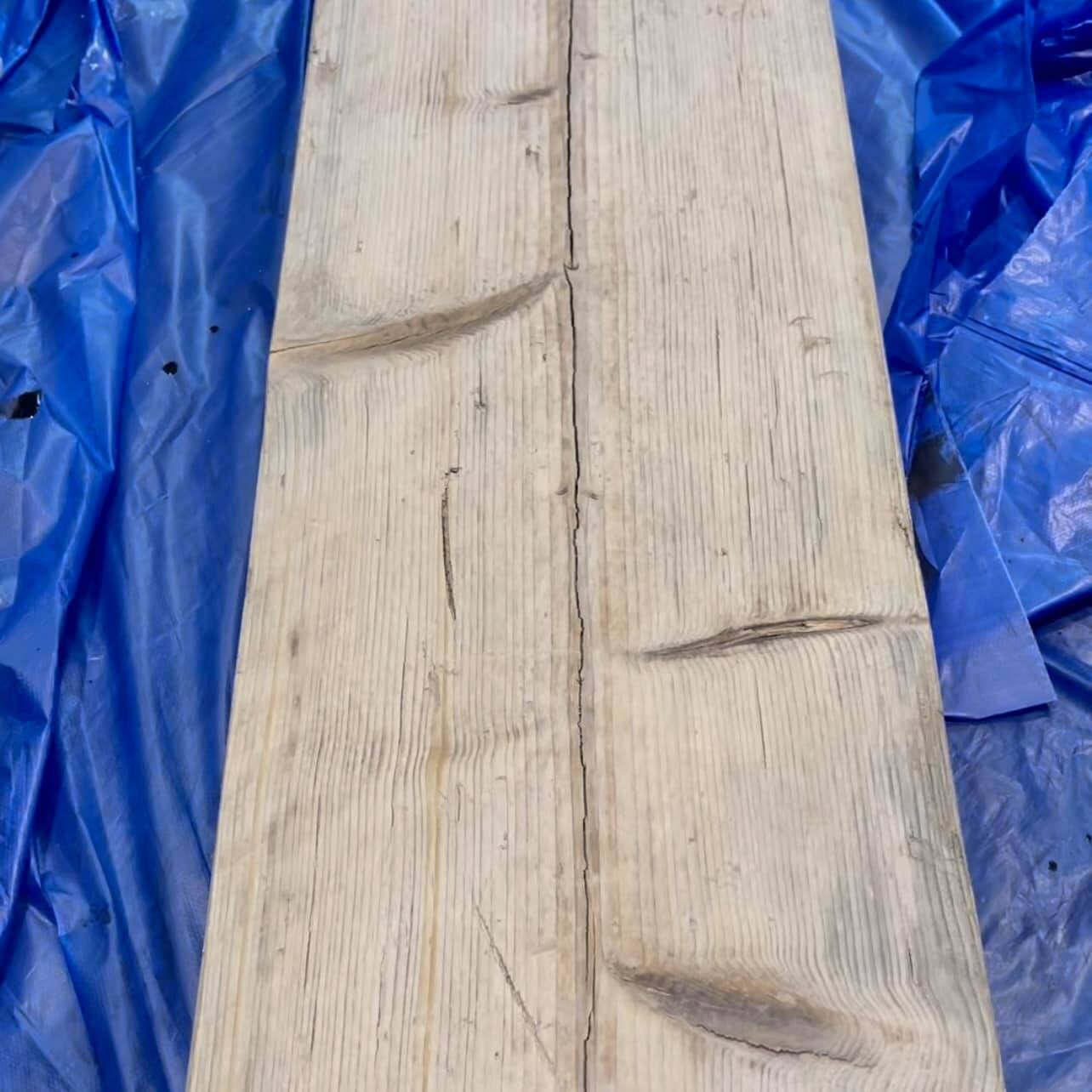 I could have used a black wood stain product but I did not have any (only dark browns which wouldn't have worked) plus I wanted to make use of the products I already have from updating furniture. If you'd rather go down the wood stain route look into Fusion Mineral Paint's Stain and Finishing Oils which you can find by clicking here or Dixie Belle's No Pain Gel Stain which you can view clicking here.
I decanted a small amount of Anchor into a plastic cup and mixed it with an equal amount of water.  For me, the consistency should be a "continuous dribble" when you lift the brush out of the mixture - you'll see what I mean in the below clip...

The application is very simple. I lightly dampened the timber before applying the wash using my mister bottle.
Doing this means the wood doesn't "grab" too much of the paint wash when its applied - think of dry wood as a sponge. The minute you introduce moisture it sucks it up. Applying a coloured wash directly to dry, bare wood means it'll likely grab more of the paint than you'd like and make removing the excess really difficult.
Apply a liberal coat of the wash and then wipe back with a lint-free cloth/towel. For this 140cm board, I worked in small 'thirds'. Applying the wash to a small section one bit at a time, wiping back and then applying to the next section.
Once the board was fully 'washed' I allowed it to dry. If the depth of colour isn't quite right you can simply keep repeating the process until you achieve a tone you're happy with. Fortunately for me, just one coat was enough for these boards. 
To create a unique look, you could apply a different coloured wash over your first coat once dried. Definitely experiment and play about.
That's all you need to do for colour washing. Thinking about what your piece of furniture is and how it will be used and be sure to select an appropriate topcoat accordingly.
I'll likely apply a clear wax to these boards or something like General Finishes High-Performance Flat (click here) or Polyvine Wax Finish varnish in dead flat (click here). You can check out my previous blog about applying General Finishes top coat by clicking here. For such a rough and irregular surface I'd avoid a roller and opt for a brush and Poly Jen brush.
If you're wondering how I made the 4 scaffold boards into a wall-mounted headboard I'll explain that from here…

Once the boards were at the correct shade and colour they were laid face down on the floor and squared up.
I cut four 90 cm batons from 2x2" timber. Two were screwed into the back of the scaffold boards (check the length of your screws before you do this)!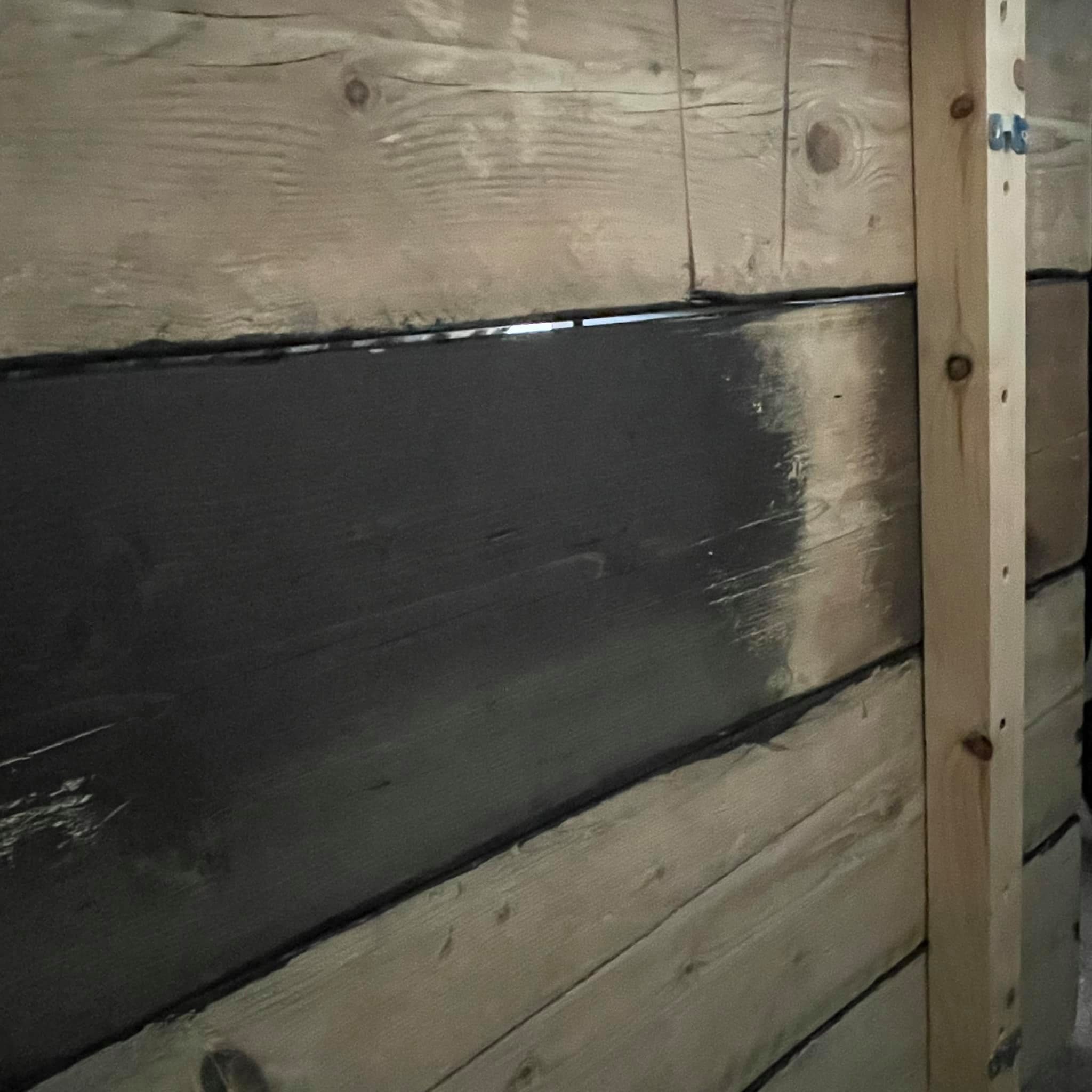 The remaining two batons are were attached to the wall using appropriate wall fittings and spaced the same distance as the batons on rear of the headboard. Taking care they were level and straight.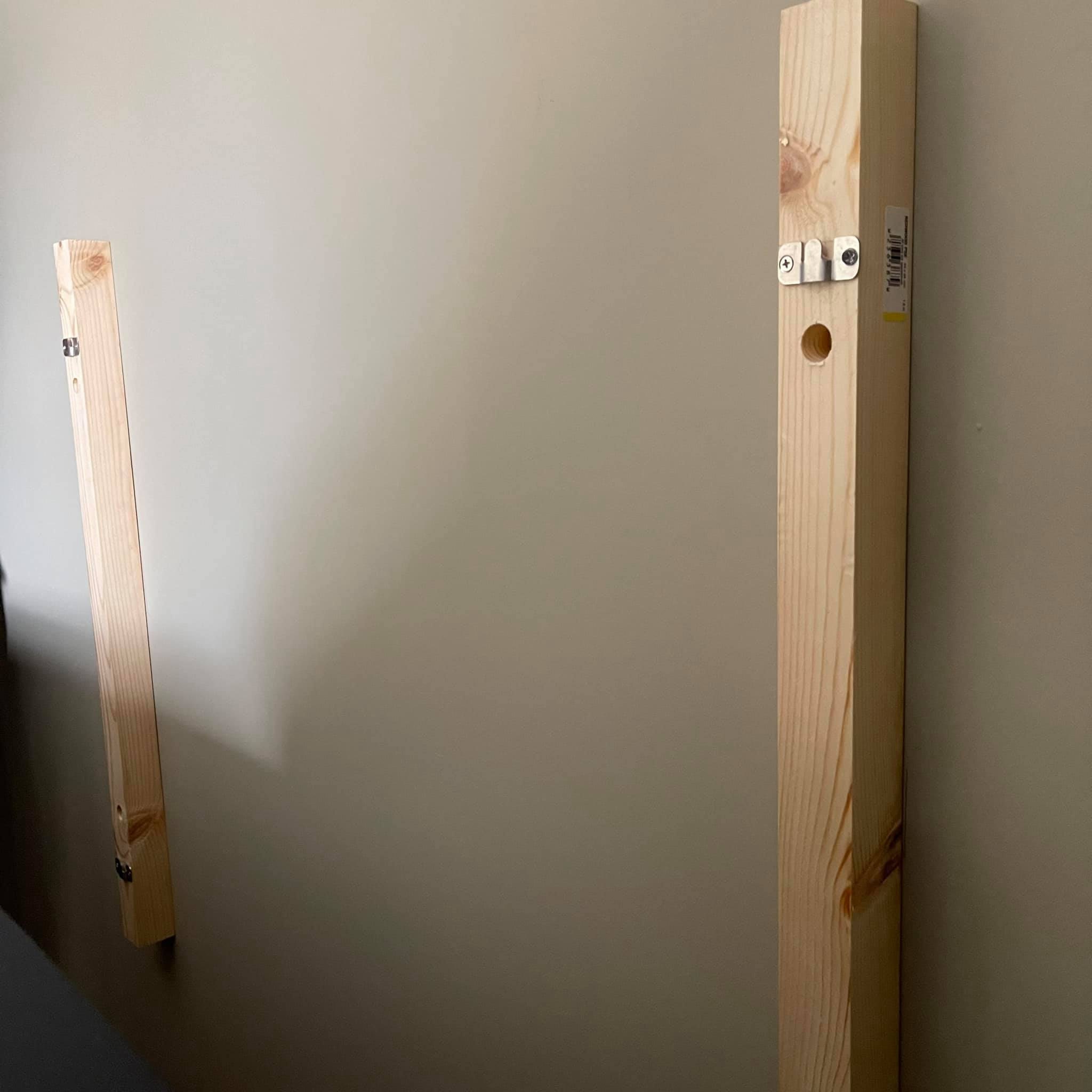 I then used four sets of headboard wall mount brackets and attached these to each baton making sure they were aligned (the silver brackets you can see in the above pictures).  
Then the headboard was offered up to the wall batons and simply slotted in thanks to the headboard wall mounting brackets.
  As I had two 2 x 2" batons attaching the boards to the wall it meant I had a 4" gap between the headboard and the wall.  To mask this, and create a hidden shelf, I took some pine timber, cut it to 4" width and painted it black using Dixie Belle Silk Anchor. I slotted it in from the top and it rested on the batons beneath which act as supports...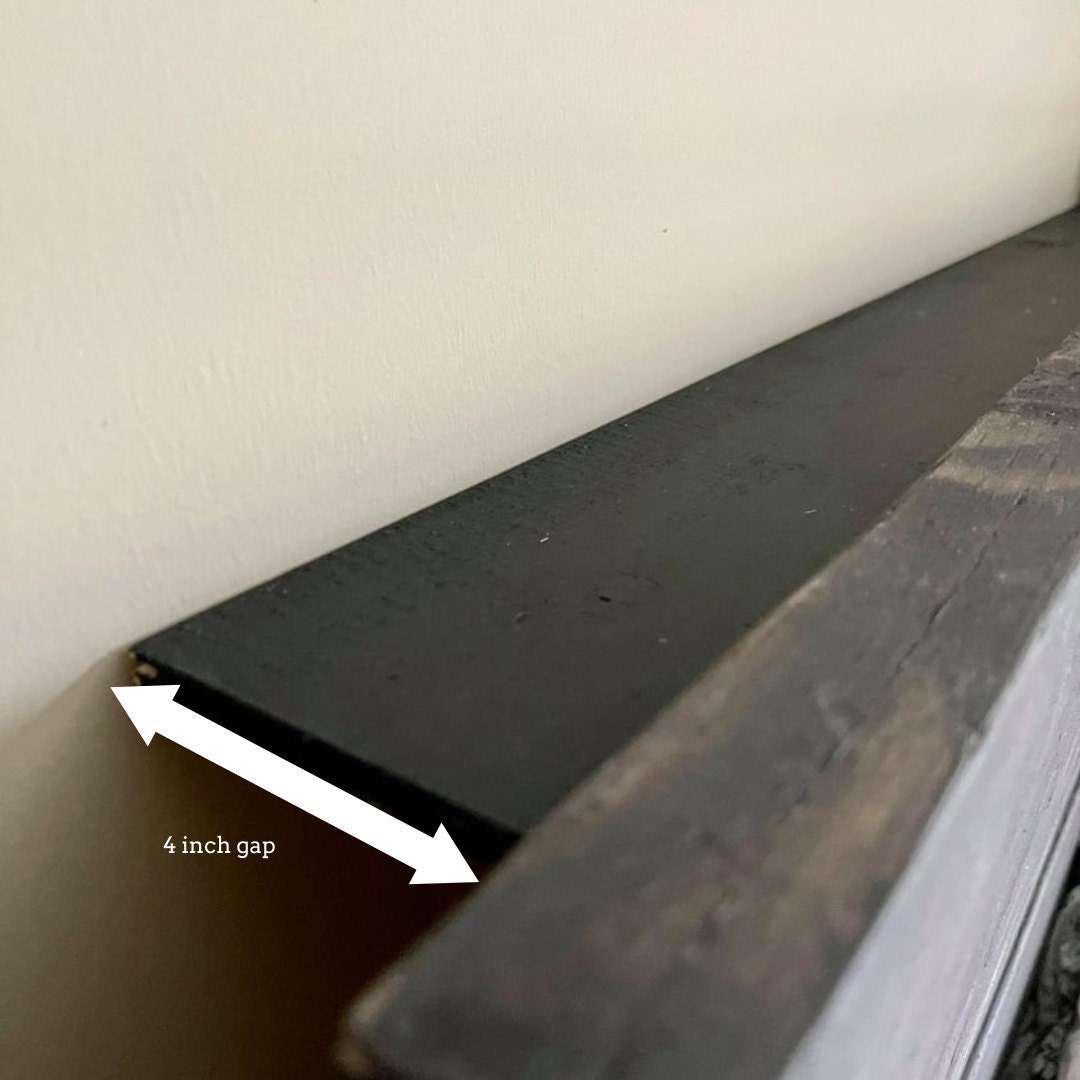 This "hidden" shelf means I can now place accessories on top of the headboard frame such as art work, stem vases, etc.
I'm super chuffed with the headboard and think the stain has worked just perfect. I'm still waiting for some accessories and artwork to be delivered so the 'hidden shelf' is bare for now but hopefully not too much longer - what do you think?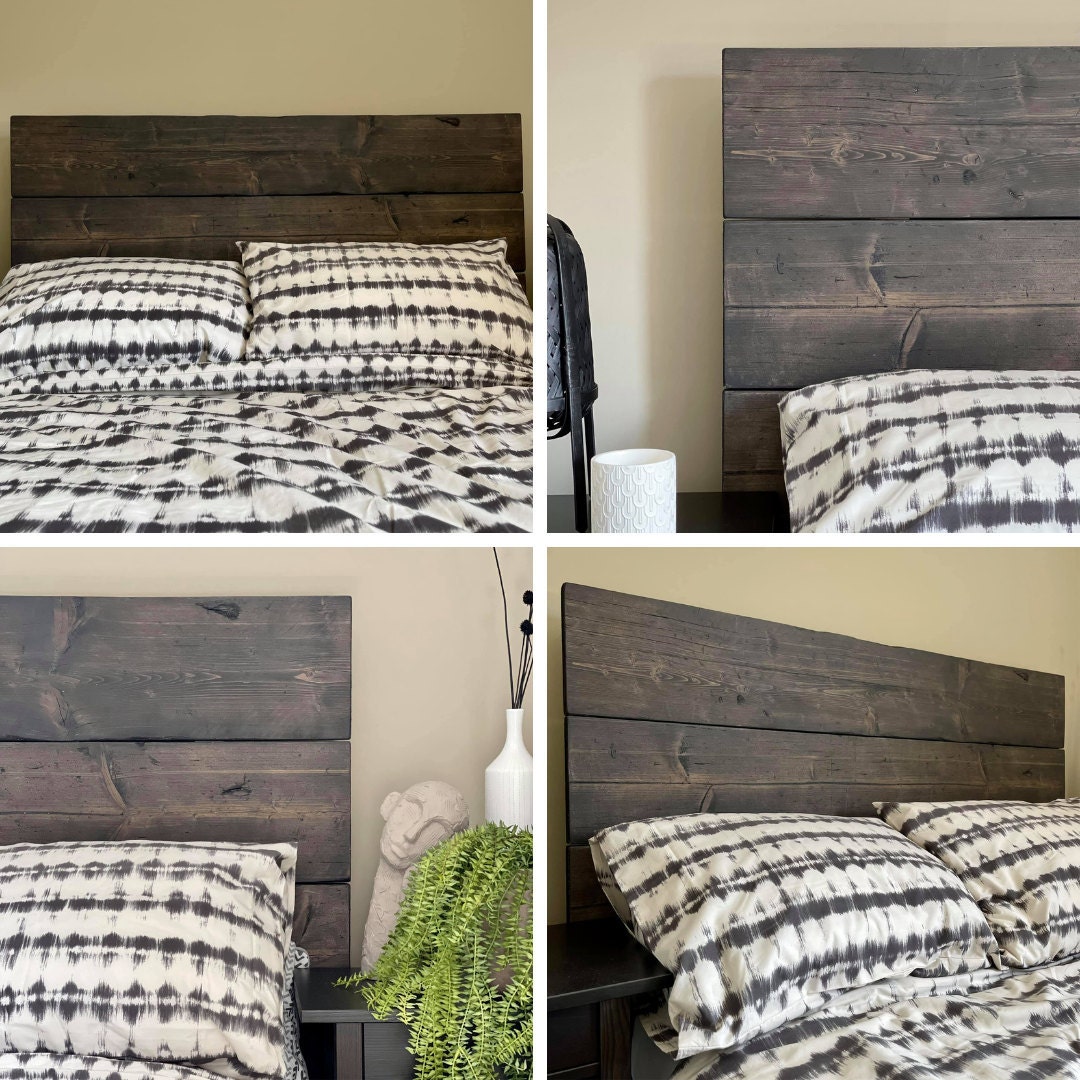 I hope you found this blog helpful and are feeling confident to use colour washes and dare I say, even create a headboard!! 
Be sure to tag me on social media ( and/or ) if you use a colour wash (or make a headboard) as I would love to see what you create! Likewise for my product suggestions - if you buy any of them tag me and let me know what you make of them! To get hold of the products I have mentioned, and much more, be sure to checkout Shabby Nook by !
Good luck with your project(s)!
Until next time...
Paul
Percy and Albert Interiors 

Shabby Nook Associate (affiliate)
My blogs and social media posts may include relevant affiliate links all of which we do our best to clearly mark as such. As a Shabby Nook Associate, I may earn from qualifying purchases (which means that if you click on my links and make a purchase, I may receive a small commission). This result in any additional cost to you, and the affiliate money I earn goes towards paying the fees to keep my website (and blogs!) up and running – thanks for your support! All linked items are ones that I genuinely use on Percy & Albert Interior creations and personally rate.