I get asked a lot about applying metal leaf - and I mean "A LOT"!! I do not consider myself an 'expert' but thought I would share how I apply it.
Gilding is an incredibly old art form, where metals such as silver and gold were beaten, by hand, to produce very thin sheets for gilding. Nowadays technology and machines mean this process is automated. Application of leaf is relatively simple - for me, there's no 'right or wrong' look.  
Please note: this blog contains some affiliate links, meaning I may earn a small commission if you decide to make a purchase using the links I have provided (at no additional cost to you!) - you can read more about what this actually means at the end of this blog.  
Apologies in advance for the poor video quality and shoddy angles (I will replace the videos when working on a future project but you should get the gist!) 

To apply metal leaf you will need the following tools and products:
Cotton gloves
Metal leaf of your choice 
Metal leaf size (I currently use Polyvine)
Lacquer (I currently use Polyvine Crystal Clear in a satin finish)
Poly Jen sponge applicator (you can get them from Shabby Nook by clicking here)
Soft brush
I get most of my supplies from a company called Gold Leaf Supplies you can view their website by clicking here. Shabby Nook also sells a range of gilding products and supplies, you can access their website by .

You can get metal leaf in lots of different colours and metals. I'll briefly talk about them now...
Colours/metals:
Metal leaf come in lots of different colours and metals. From expensive real gold through to more budget-friendly options such as imitation gold, which gives the look of gold for a fraction of the cost!
In addition to gold, you can get silvers and coppers as well as verigated styles that are multicoloured, great if you want to do something very different from the 'norm'. 
Forms:
Generally speaking, you can get leaf in two forms - flakes and leaf. 
Flakes as the name suggests are tiny flakes of metal leaf. They're great for creating interest and can be used to transition between two colours. 
'Leaf' are squares of metal leaf that come either loose or as transfers. Loose leaf, will be supplied in a booklet with each leaf separated by paper. As the leaf is loose it can be difficult to handle but if you're happy with/seeking a textured/wrinkled look then loose-leaf is great. If however, you are wanting a relatively smooth/flat finish with as few creases and wrinkles as possible I'd steer clear of this option. 
These drawers by Kelly of Olive & Whyte are a great example of how loose leaf can be applied to create a look similar to flakes. Not only do they add interest but help to mask the transition between the two colours - I love them!!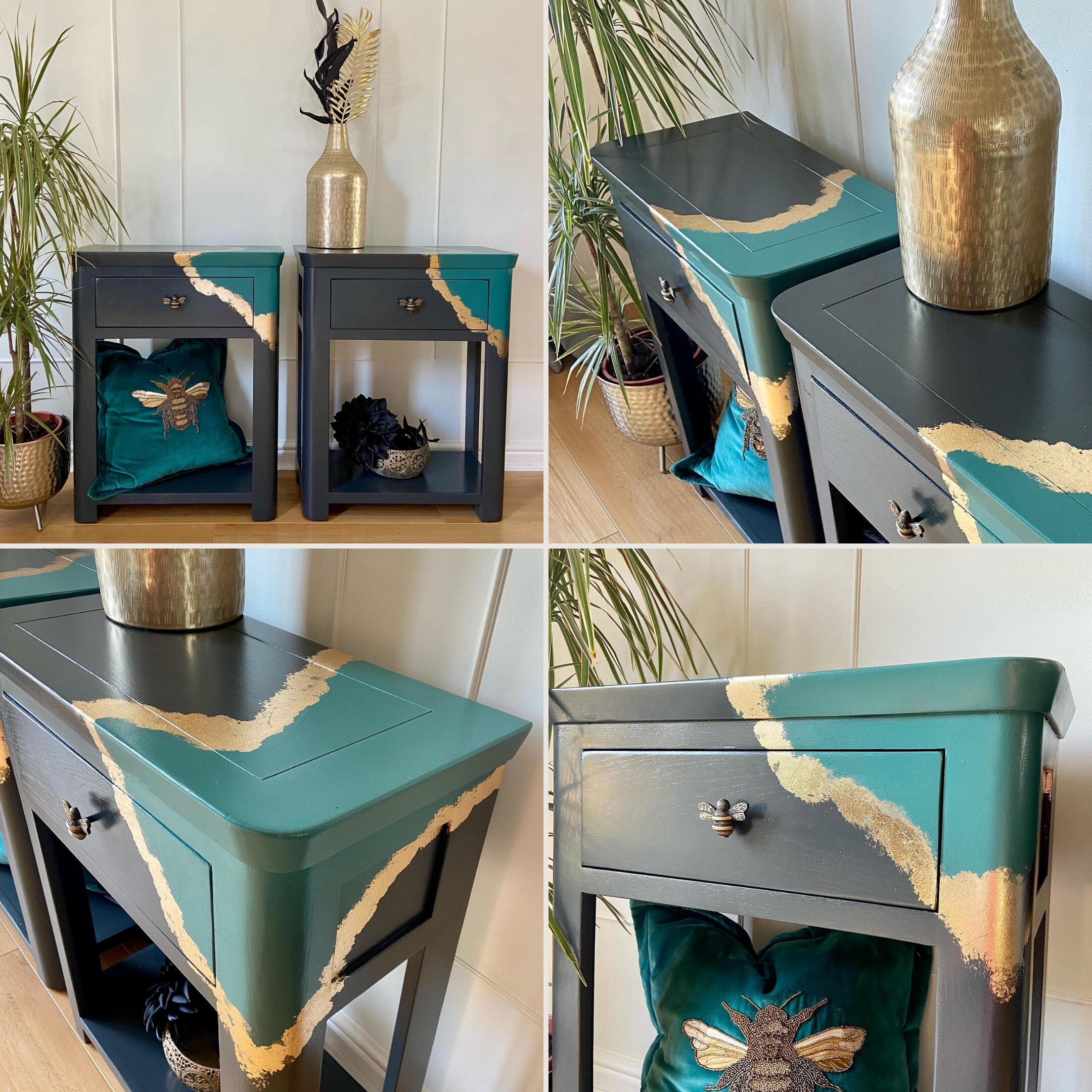 Source: Olive & Whyte - check out Kelly's amazing creations on her Facebook page (by ) and/or her Instagram page (by ). 
I've done several cabinets with metal leaf backing boards and always opt for transfer leaf in these scenarios. The leaf comes in a book but each leaf is pressed onto a sheet of wax paper making it much easier to handle and work with minimising tears and rips.
Here are some examples of cabinets I have created using transfer leaf with imitation gold and copper...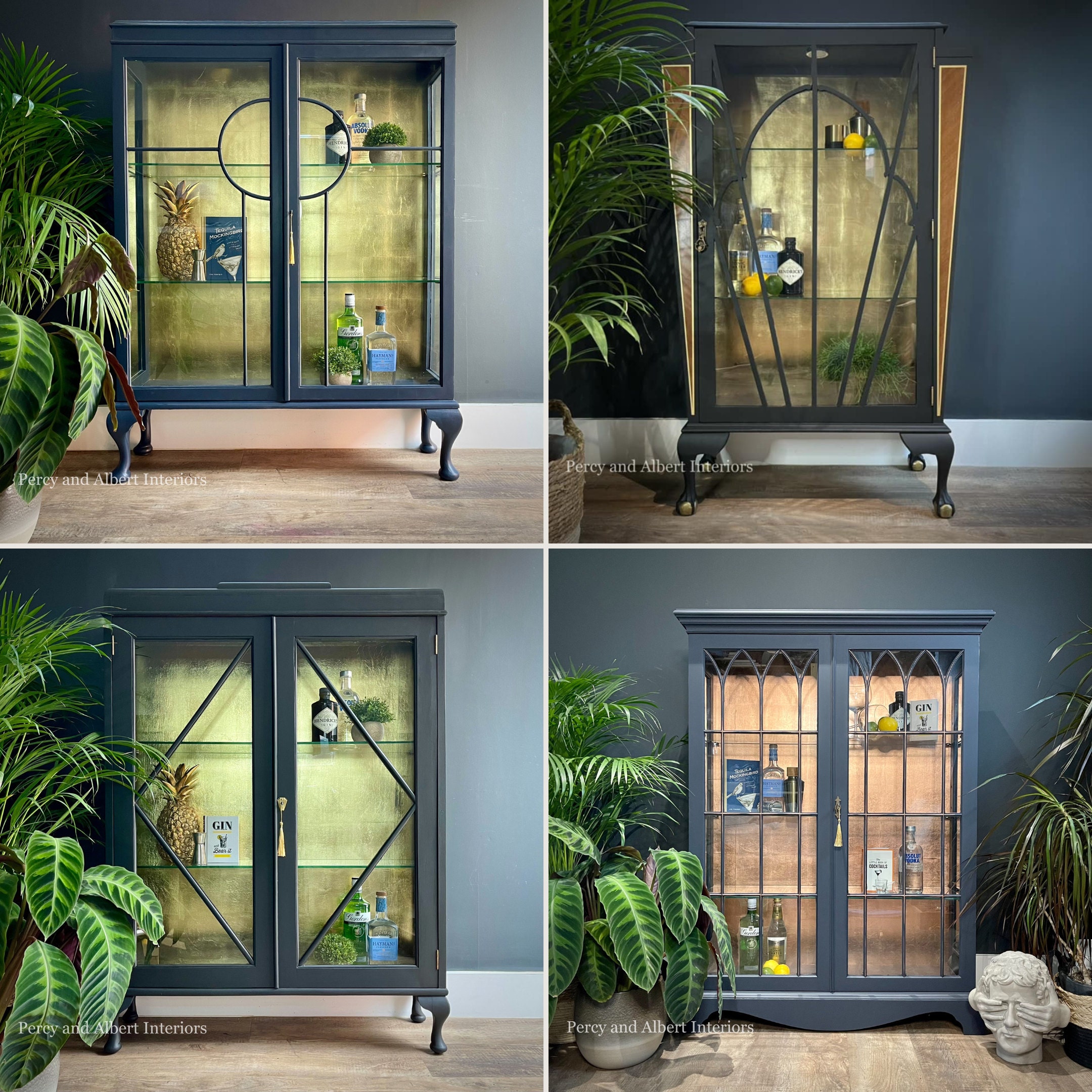 When applying metal leaf it will show every imperfection of the surface it is going to be applied to. So ensure it's super clean and smooth. If there are dings and dents make sure these are repaired before applying the metal size.
It helps to paint the surface before applying your metal leaf size using a complementary colour so you do not see any small tears or hairline gaps. I use the following: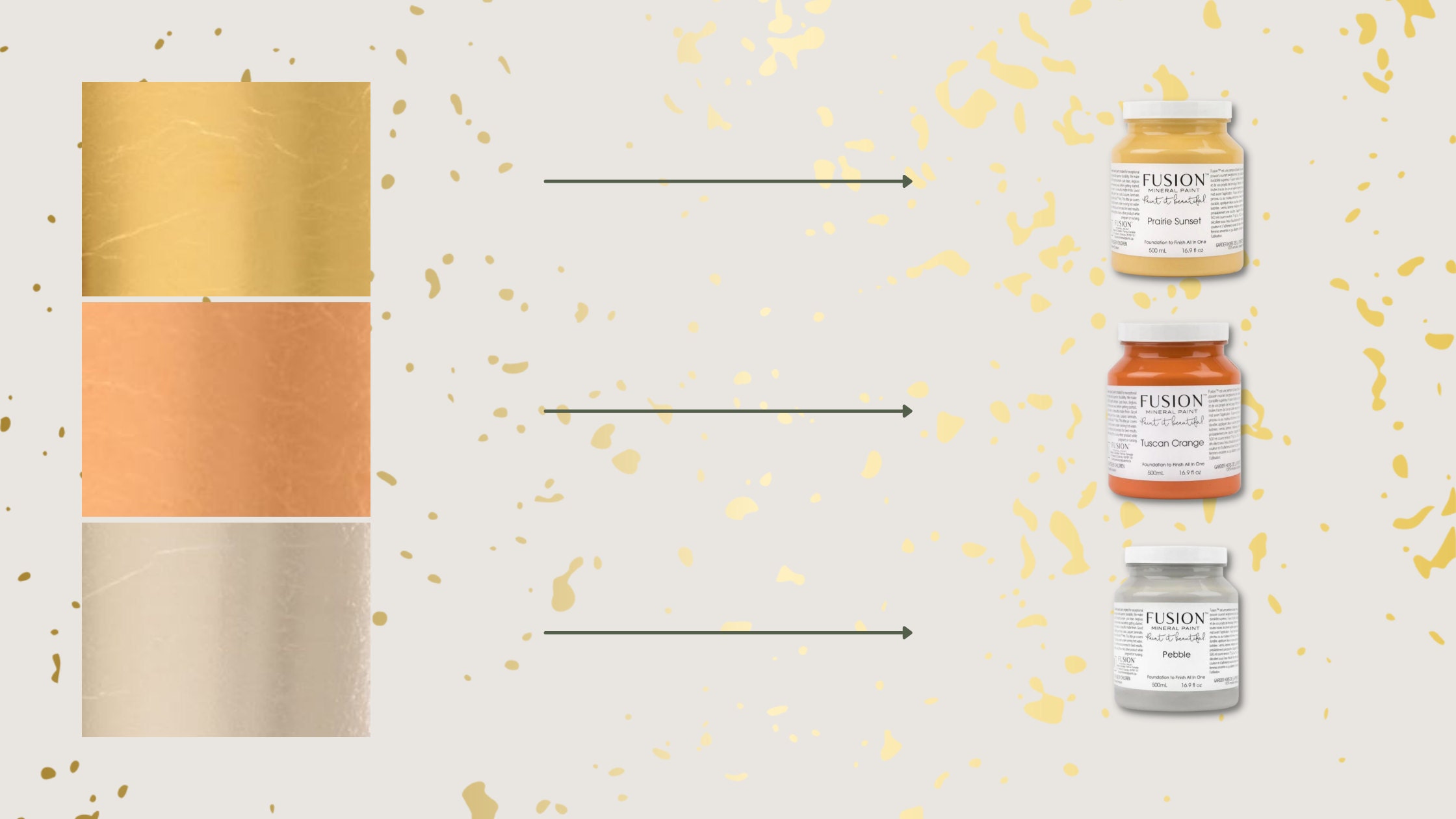 You can grab your here Fusion Mineral Paint from Shabby Nook by :
Fusion Mineral Paint Prairie Sunset (when using gold coloured metal leaf) - click here
Fusion Mineral Paint Tuscan Orange (when using copper coloured metal leaf) - click here
Fusion Mineral Paint Pebble (when using silver coloured metal leaf) - click here
If however, you want the imperfections to be noticeable because you are seeking a distressed/worn look, then using a contrasting colour will help achieve this.
Here's a short video summarising everything covered so far...

OK, so the surface has been prepped and is now ready to receive the metal leaf size. I use a Poly Gen sponge applicator for this job (click here to grab yours). Polyvine Metal Leaf Size doesn't 'self-level' particularly well so if using a brush be mindful of that. If you can see brush strokes in the size you will see them through your metal leaf.
Apply a thin layer of size and when it changes from white to clear and becomes slightly tacky to the touch it is ready to receive the metal leaf. Here's a timelapse of me applying the size. As there was a noticeable grain on this board I have made sure to follow it when applying the size.

So the size has now dried clear and is tacky to the touch. Here are some videos of how I apply it. 

When the leaf is applied I deliberately leave an overhang at the bottom of each square and on the left edge. These need to be removed to create a smooth and uniform finish and prevent any unsightly gaps.
Before removing the excess you should leave the leaf for a few hours to allow the size to dry beneath it. Using a soft makeup brush I gently agitate the loose-leaf (skewings) by gently rubbing it along the joins. Don't use too much pressure when doing this or you may scratch your leaf. 
Needless to say, this is MESSY so be sure to do it somewhere suitable. I always do this in the garden to avoid mess.

To keep your metal leaf looking its best and to prevent it from tarnishing you need to seal it. You can use a range of topcoats for this purpose but I use lacquer.
Here I show you how I apply it. If using Polyvine I will apply 2 -3 coats.
Once the leaf has had several coats this was how it looked...

I hope you found this blog helpful! This approach has always worked well for me, and I hope it works for you too. Please do tag me on social media or use the hashtag #percyandalbertinteriors so I can see how you do!
Here's the cocktail cabinet this board was used for...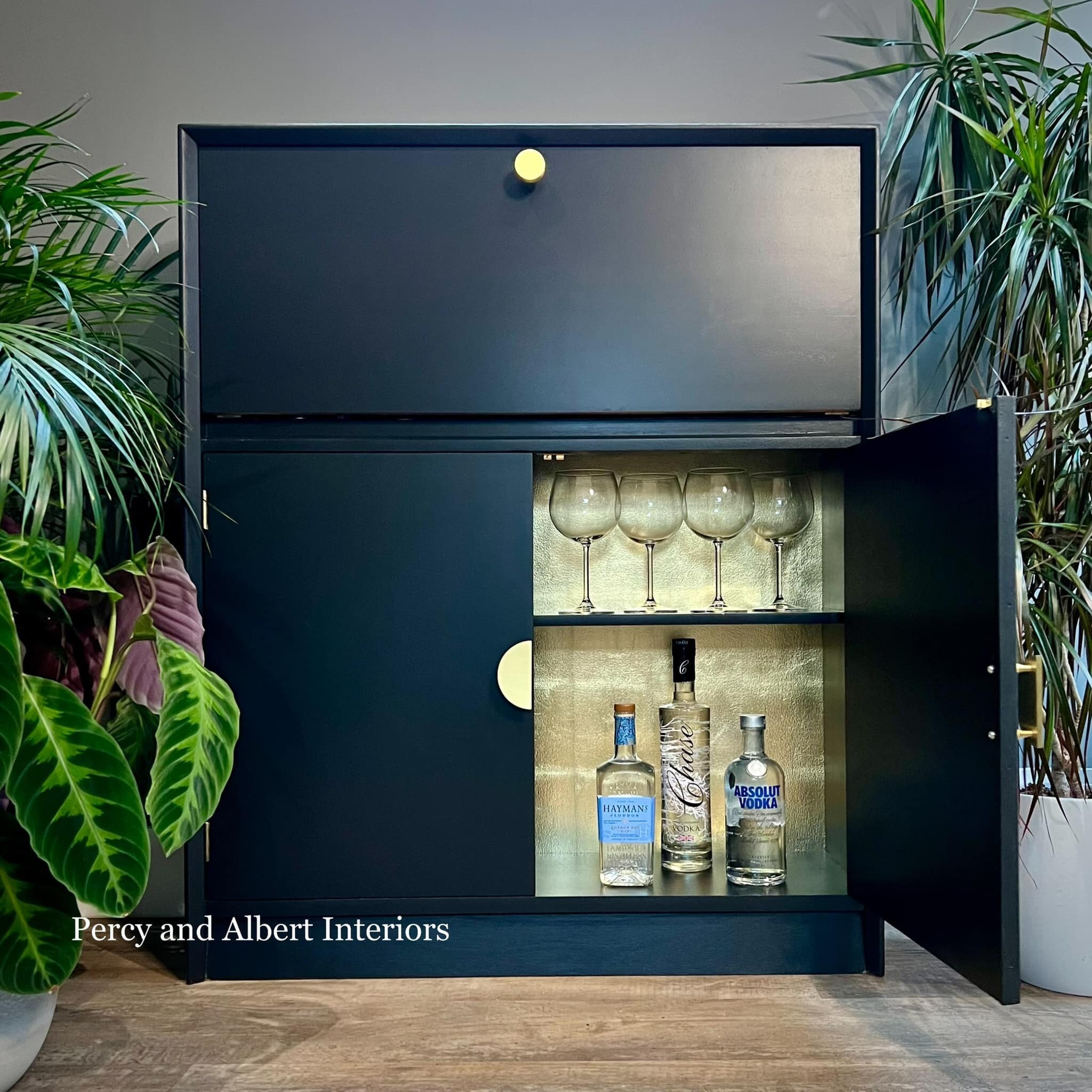 If you purchase any of the products mentioned above, let me know via social media (Facebook and/or Instagram ) about how you get on with them and be sure to show me what you create!
Good luck with your projects!
Paul  
Percy and Albert Interiors 
Shabby Nook Associate (affiliate)
My blogs and social media posts may include relevant affiliate links all of which we do our best to clearly mark as such. As a Shabby Nook Associate, I may earn from qualifying purchases (which means that if you click on my links and make a purchase, I may receive a small commission). This does NOT result in any additional cost to you, and the affiliate money I earn goes towards paying the fees to keep my website (and blogs!) up and running – thanks for your support! All linked items are ones that I genuinely use on Percy & Albert Interior creations and personally rate.